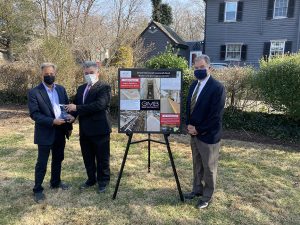 The engineering & architectural firm of George, Miles & Buhr, LLC (GMB) was recently honored with a Conceptor Award from the American Council of Engineering Companies of Delaware (ACEC DE) for their Front Street and Savannah Road Water & Sewer Improvements project in Lewes, Delaware.
GMB assisted the Lewes Board of Public Works (BPW) with a project to upgrade its capacity to collect wastewater flows from the cityside of Lewes and replace existing iron water mains.  The work was completed on Front Street in the downtown business district, requiring complete renovation & beautification of the Front Street corridor.
Approximately 800-feet of existing 15-inch clay sanitary sewer pipe was replaced with new 18-inch PVC pipe, and 490-feet of existing 18-inch clay pipe was lined trenchlessly. Additionally, existing iron water mains were replaced with 12-inch PVC pipe, improving system hydraulics and eliminating aging pipe.
The use of innovative cured-in-place (CIP) pipe lining technology significantly reduced construction disturbance and costs.
This project achieved many goals for the City, including updating large, aging water & sewer infrastructure, addressing stormwater management challenges, and making streetscape enhancements. Intensive coordination and stakeholder communication was required to minimize disruption to downtown Lewes businesses and residents.
Construction was completed in May 2019, with Teal Construction serving as the general contractor.
The Engineering Excellence Awards Program recognizes engineering achievements that demonstrate the highest degree of skill and ingenuity, while providing a significant benefit to the public welfare and the practice of consulting engineering.
GMB is a premier Architectural & Engineering firm with offices in Salisbury, Baltimore, and Seaford. The firm specializes in water, wastewater, land development, municipal, structural & sustainable engineering; and commercial, residential & institutional architecture.  Founded in 1960, GMB has served the Chesapeake Bay region and beyond for over six decades.  For more information, visit GMB's website at www.gmbnet.com.