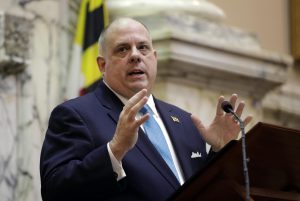 Today, Gov. Larry Hogan announced that, on Day One of the 2018 General Assembly session, he will introduce his own new legislation to provide for mandatory paid leave. Here are a few of the elements:
• requires businesses with 25 or more employees to offer paid leave by 2020, with phase-ins
• 50 or more employees: 2018
• 40 – 49 employees: 2019
• 25 – 39 employees: 2020
• waiver for "significant financial hardship" (2017 HB 1 Zirkin amendment)
• no questions asked for leave
• accrual rate: one hour of leave for every 30 hours worked, for every employee
In a separate bill, Gov. Hogan will introduce $100 million for small business tax credits for businesses with fewer than 50 employees, to be used for tuition assistance, health care contributions, paid leave, and other benefits.
The governor's office worked with the Department of Labor, Licensing and Regulation to develop Gov. Hogan's paid leave bill. DLLR conducted a study that included a survey, which you may have seen in our social media posts. Among other recommendations, DLLR included:
• 120-day employment before using leave time
• exemption for the construction industry
• adopt noncompliance damages from minimum wage statutes
You can find the full report, and the full text of the governor's bill, on mdchamber.org.
We believe that employers should be able to determine what benefits to offer and when. However, as we learn more details, we will work with our legislative and issues committees to determine the bill's potential impact and our next steps. If you would like to share your thoughts, please contact us.
The Maryland Chamber of Commerce is the leading voice for business in Maryland, representing more than 400,000 Marylanders through our member-companies, institutions and organizations. The Maryland Chamber's mission is to support business and advance Maryland as a national and global competitive leader in economic growth and private sector job creation through effective advocacy and high-level networking.