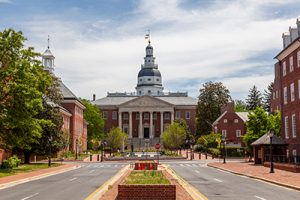 Maryland Gov. Wes Moore announced his long-awaited decision on the person who will guide the state's transportation projects, picking the former head of the Baltimore-Washington International Thurgood Marshall Airport and the D.C. Metro system to be transportation secretary.
Paul J. Wiedefeld, who has decades of experience in transportation, was the Democratic governor's pick for this high-profile job in the new administration.
Moore and Wiedefeld will face numerous difficult decisions on thorny projects, including completing the long-delayed Purple Line Metro extension in the D.C. suburbs; deciding whether to continue former Gov. Larry Hogan's plan to address traffic on some suburban D.C. highways with toll lanes; and fulfilling Moore's campaign promise to revive the proposed Red Line, an east-west transit project in Baltimore.
On Thursday, Governor Wes Moore announced that more than four dozen appointments made by former Gov. Larry Hogan have been withdrawn.
The 48 appointments across 23 boards and commissions include the Public Service Commission, University System of Maryland Board of Regents, Maryland Stadium Authority, state Board of Education and Commission on Judicial Disabilities. Of those names withdrawn, 35 were appointments made by outgoing Republican Gov. Larry Hogan in July.
"Governor Moore has thoughtfully and carefully put together an administration that will make Maryland a more competitive and equitable state for everyone," said Carter Elliott, a spokesman for the governor. "The administration would like to thank these individuals for their willingness to serve, and we look forward to working with the governor's future appointees."