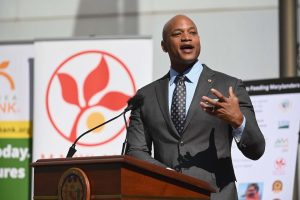 Funds Will Provide Marylanders in Need with Fresh Local Food
ANNAPOLIS, MD — Governor Wes Moore today announced two Maryland Department of Agriculture initiatives to establish new market connections between farmers, watermen, and Maryland food banks. Funding for both the federal Local Food Purchase Assistance Cooperative Agreement Program and Maryland Food and Agricultural Program will help provide Marylanders in need with fresh local food.
"Hunger is a West Baltimore issue and a West Annapolis issue – it's an Eastern Shore issue and a Western Maryland issue – it's a Washington suburbs issue and Baltimore suburbs issue," said Gov. Moore. "These two programs share the same goal: to build resiliency in our food system and connect farmers to food banks that help our fellow Marylanders in need. We don't need to choose between supporting our agricultural sector and fighting hunger: we can, and must, do both at the same time."
Gov. Moore joined Maryland Department of Agriculture Secretary Kevin Atticks, Department of Human Services Principal Deputy Secretary Carnitra White, U.S. Department of Agriculture Agricultural Marketing Service Administrator Bruce Summers, representatives from both the Maryland Food Bank and Capital Area Food Bank and Maryland farmers, watermen and seafood company representatives at a press conference this morning to announce the two programs.
"These initiatives will address hunger and connect rural and urban communities in the common purpose of feeding our state," said Maryland Department of Agriculture Secretary Kevin Atticks. "We are so proud that the Maryland Department of Agriculture is at the center of these initiatives."
Funded by the United States Department of Agriculture – Agricultural Marketing Service, the Local Food Purchase Assistance Cooperative Agreement Program provides Maryland with $6.1 million for 2023-2024 to fund the purchase of local food from Maryland farmers and watermen. The grants will be directly distributed to each food bank.
Beginning July 1, the Maryland Food and Agricultural program will fund $200,000 annually to build food system resiliency by leveraging Maryland agricultural products and services to support the state's food banks and charitable emergency food providers to alleviate food insecurity. The Maryland Department of Agriculture will issue grants to support the initiative.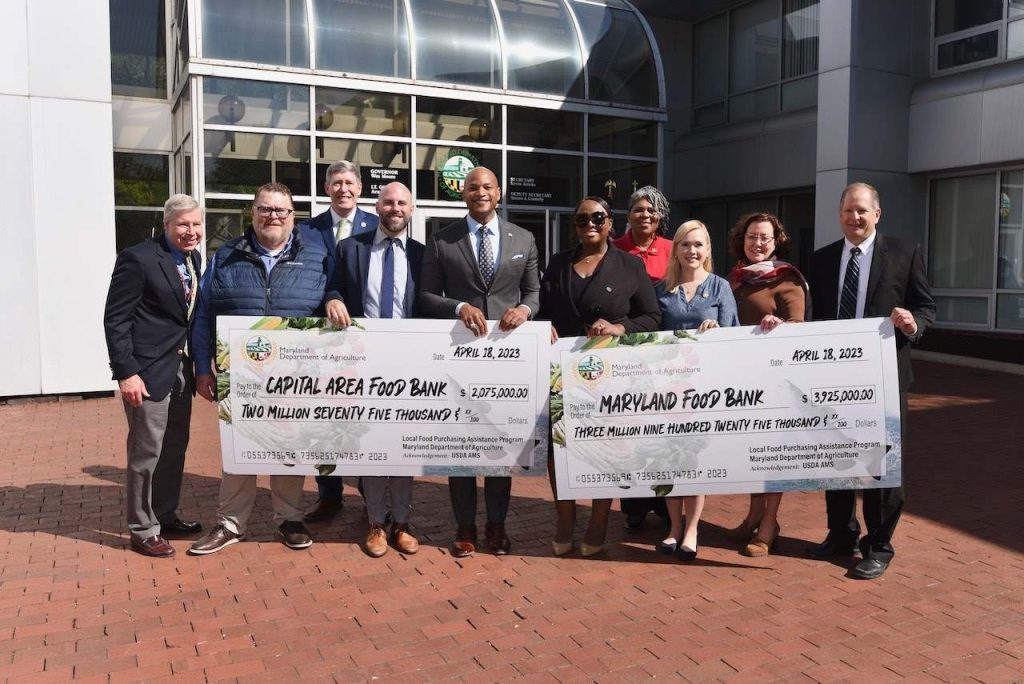 "USDA is excited to partner with the Maryland Department of Agriculture as they promote economic opportunities for their local farmers and producers, and to increase access to locally sourced, fresh, healthy, and nutritious food in Maryland's underserved communities," said USDA Under Secretary for Marketing and Regulatory Programs Jenny Lester Moffitt. "This cooperative agreement will improve food and agricultural supply chain resilience as part of the Biden-Harris administration's commitment to invest in America and strengthen regional economies, like that of the Chesapeake Bay region."
"Hunger remains a significant problem in our society. Despite being one of the wealthiest states, many Marylanders struggle with access to healthy, locally grown food options," said Principal Deputy Secretary for the Maryland Department of Human Services Carnitra D. White. "These additional federal and state investments will help feed Marylanders and improve their health."
"With support from the State of Maryland and the Maryland Department of Agriculture, this initiative will not only help provide resources to strengthen our local food systems, but it will bolster the nutritious offerings we're able to make available to our network of community partners and food-insecure communities throughout the state," said Maryland Food Bank Chief Executive Officer and President Carmen Del Guercio. "We're grateful to the Moore administration for recognizing that all Marylanders should have access to fresh, healthy foods produced locally, no matter a person's circumstances."
"Between the economic turmoil of the last several years and dramatic increases in the costs of living, far too many of our Maryland neighbors are struggling to get the food they need to thrive," said President and Chief Executive Officer of the Capital Area Food Bank Radha Muthiah. "The Local Food Purchase Assistance Program will have an enormous impact by getting nutritious, high quality foods from our region's agricultural producers onto the tables of area families in need, while also spurring growth in our local economy."
For more information about these new programs, contact Maryland Department of Agriculture Marketing Program Manager Mark Powell at mark.powell@maryland.gov or (410) 841-5770.
The Maryland Food Bank is a nonprofit hunger-relief organization dedicated to feeding people, strengthening communities, and ending hunger for more Marylanders by partnering with local organizations from the western mountains to the Eastern Shore. The food bank's statewide network of food assistance brings enough resources together to provide more than 111,000 meals every day (more than 40 million meals annually) to hungry children, seniors, veterans, and hard-working families, meeting the immediate needs of hungry Marylanders while simultaneously working to create pathways out of hunger. Learn more about the Maryland Food Bank at www.mdfoodbank.org.
The Capital Area Food Bank addresses hunger today and creates brighter futures tomorrow for over a million neighbors experiencing food insecurity across the greater Washington region. As the anchor in the area's hunger relief infrastructure, they provided 53 million meals to people in need last year by supplying food to hundreds of nonprofit organizations. They also work in partnership with organizations across the region to address hunger's root causes by pairing food with critical services such as education, health care, and job training. For more information, visit www.capitalareafoodbank.org.
A video of today's event can be found here.