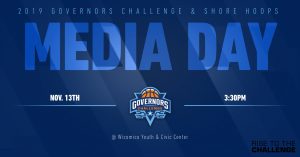 Salisbury, MD – The Governors Challenge high school basketball tournament will host Shore Hoops Media Day on Wednesday, Nov. 13.
The media day, which starts at 3:30 p.m., will feature 15-plus boys and girls teams from the Henlopen and Bayside conferences. It will be held in the lobby of the Wicomico Youth & Civic Center in Salisbury.
The Governors Challenge has grown to be the largest holiday basketball tournament in the country. In its 39th year, the Governors Challenge will bring over 120 teams to the Wicomico Youth & Civic Center, UMES and surrounding high schools on Dec. 26-31, 2019.
This year's format will include a DMVelite Showcase division, which includes 26 top teams, a varsity boys division, varsity girls division and girls showcase division.
Teams from Maryland, Washington, D.C., Delaware, Virginia, West Virginia, New Jersey, New York, Rhode Island, Pennsylvania, North Carolina, South Carolina, Florida, California, Puerto Rico, and Canada will participate in this year's tournament.
For more information, visit www.GovChallenge.org.