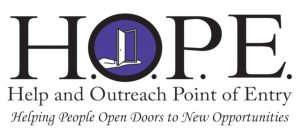 Help and Outreach Point of Entry, Inc., fondly known as H.O.P.E., is happy to share that we will be featured on the Monday, April 26th edition of DelmarvaLife on WBOC-TV 16 at 5 p.m.  DelmarvaLIfe focuses on life at its best on the Delmarva Peninsula, connecting with neighbors, local businesses and non-profits to help us live our best lives.
On the upcoming show, H.O.P.E. will share with the DelmarvaLife audience good news stories about the work of our organization.  Learn how H.O.P.E. has created change in the lives of two men who have been homeless in our community. Hear how our assistance helped one man become a productive member of our community. Learn how our guidance enabled another man, who has NEVER been able to get a decent job or housing due to lack of identification, to finally obtain his birth certificate and other necessary identification, allowing him to work on his life goals of obtaining a secure job and owning his own vehicle. Listen to the positive attitude of an organization's commitment to recognizing each individual as a person who deserves dignity and respect.
Thanks to the support of our dedicated volunteers and generous donors, H.O.P.E. is delighted to share with the DelmarvaLife audience examples of lives changed for the better.  We are proud that DelmarvaLife has been supportive our of work to help and improve the lives of the homeless, the least and the lost in our area.
If you know of someone in need who would benefit from H.O.P.E.'s services or if you would like to learn how you could help, please email us at hope@hopesby.com or call 410-677-0757.