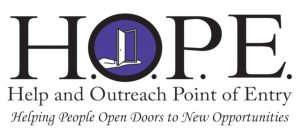 Salisbury, MD – Help and Outreach Point of Entry, Inc., better known as H.O.P.E., provides a multitude of services for the homeless and those at risk, including collaboration with and referrals to 43 agencies and organizations throughout the lower three counties.
Due to a recent Covid exposure, H.O.P.E. has temporarily closed for in-person appointments until December 1st.  When it reopens, the days of operation will be Tuesdays and Thursdays from 10 a.m. to 2 p.m., by appointment only, at their office in the basement of Wicomico Presbyterian Church. Due to the pandemic, complimentary client lunches will not be served until further notice.
H.O.P.E.'s clients are assisted in navigating the medical "maze"; which includes help in securing necessary documents for Maryland state health insurance, Medicaid, housing and employment; screening for emergency financial assistance for medical, dental, eye care, medications and medical supplies; and emotional encouragement and support.
If you know of someone in need, who would benefit from H.O.P.E.'s services, please use the new email address hope@hopesby.com or call 443-944-5279. If no answer, please leave a message and you will be called back. For more information, visit the new web address at www.helpandoutreach.com.
Your support is greatly appreciated!