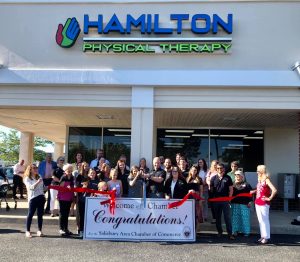 By Cathy Diekmann
Unless you have needed specialized care of the upper extremity – the shoulder, arm, forearm, wrist, or hand – most people do not know how important specialized care from Certified Hand Therapist is to recover from an injury or condition affecting that area of the body.
On June 15, 2021, members of the Salisbury Area Chamber of Commerce and local communities gathered for a ribbon cutting to celebrate the opening of Hamilton Physical Therapy's new Salisbury location and learned about the benefits of this specialty.
Eastern Shore native Jennifer Hamilton and her husband, Billy Hamilton opened their first clinic in the Berlin/Ocean Pines area in 2019.
Jennifer and Billy both earned their Doctor of Physical Therapy (DPT) degrees from the University of Maryland Eastern Shore in 2006 and Certified Hand Therapist (CHT) credentials in 2012. They are two of only four CHTs from Ocean City to Salisbury and two of 900 DPT/CHTs in the entire United States.
 Despite the relative dearth of DPT/CHTs, there is a significant need in our region for this specialized care. Workforce related injuries in the agriculture, fishing, and manufacturing industries, as well as dysfunction and limitations stemming from bone spurs, arthritis, and carpal tunnel syndrome often require DPT/CHT expertise.
Billy Hamilton explains, "Most CHTs are Occupational Therapists, but if an upper extremity injury is related to a back, neck, or balance issue, we can treat that as well."  Jennifer Hamilton added, "We can also treat other areas of the body and want every patient to feel welcomed and supported by a personalized plan of care that addresses their specific concerns and goals."
The Hamiltons' education, training, and specialization enables them to provide other unique services including custom orthotics – braces and splits that are custom-made for each patient. Jennifer Hamilton explains "Some needs can be served by over-the-counter bracing, but I often joke that one size fits none. When we create a custom orthotic, there's no issue with it not fitting well."
Hamilton Physical Therapy also welcomes Spanish-speaking patients. Jennifer Hamilton earned her undergraduate degree in Spanish at Salisbury University. "Some of our patients cannot or don't feel comfortable communicating in English, so I'm glad that I can understand them and speak Spanish."
During the ribbon cutting event, Maryland Senator Addie Eckhardt and Delegate Carl Anderton presented Hamilton Physical Therapy with a Maryland General Assembly Citation. Noting that Hamilton Physical Therapy is located in the former Radio Shack space that was vacant for years, Anderton said, "We appreciate that you are doing what our community needs – taking vacant spaces, making it come to life and employing people, that's the name of the game."
 Eckhardt added, "I'll admit that I'm biased, I think every health care practice needs a Physical Therapist because these folks know how to get your body in shape and working at its best …They (physical therapists) are important to the life and health of our communities."
Hamilton Physical Therapy is located at 119 W. College Avenue, Salisbury MD and 11007 Manklin Creek Road, Berlin, MD. Check out their website https://hamiltonptcares.com