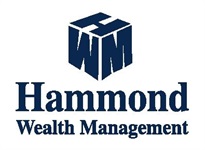 Hammond Wealth Management will be hosting a luncheon on "Women and Investing."
The event is at noon on the 27th of September at Adams Grille
The presentation focuses on the unique financial challenges women face when planning for their future. Among others, the presentation will cover topics such as Retirement Savings, Social Security planning, and protecting your assets.
Hammond Wealth Management is based in Salisbury, Maryland, we serve clients throughout the Delmarva area, as well as having the ability to serve clients nationwide. We provide a large variety of financial and Wealth Management Services to individuals, businesses, and institutions in every industry. Our advisors and staff at Hammond Wealth Management are committed to providing the best client services- whatever your goals may be, we can help you get there.
For more information, contact Mark Outten, ChFC, Hammond Wealth Management at 443-735-0682.