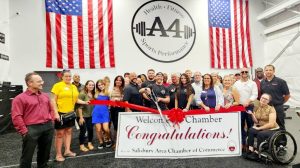 A group of Salisbury Area Chamber of Commerce members, friends, and family joined AJ Angello yesterday as he held the official ribbon cutting for his new business, A4Training.
Training guru AJ Angello welcomed guests and shared what motivated him to build A4 Training and information on the services offered at the brand new training facility. "We offer a lot of different options for our members, starting with a general membership to use our facilities, 24/7. We also have personal training, actually, this is how I started this business, and group team training. But we are starting to focus more on team training and adding physical therapy to our services. I would like to send a special thanks to my parents who have always guided and helped me with this project, and to Sarah (one of our personal trainers) who moved here from Connecticut and has been a tremendous help."
A4 Training is Delmarva's fastest-growing training facility located in the heart of northern Salisbury, MD. The 2,000 sq. ft indoor facility includes high-quality turf and flooring, state-of-the-art strength equipment, and cardio machines. They also offer a 55 x 23-yard turf field for speed and agility training, that can also be used for strongman and CrossFit training. New services available include an outdoor pickleball court and physical therapy.
This is not your regular gym, as they also offer personal training services, team and group programs, and online programs. At A4, they #BuildTogether and encourage a high-energy, welcoming community for all clients regardless of their program, physical ability, previous experience, gender, ethnicity, religion, or sexual preference.  One amazing perk this gym offers… you get your own key fob and can access the gym 24-7!
Attendees were delighted with light fare and beverages; and door prizes included 2 Fall baskets, a 3-month free membership pass, and 12-pack private training.
A4 Training is located at A4 at 112 W. Gordy Road, Salisbury, MD. For information on their hours and services, visit them on the web at http://www.a4trainingllc.com, or contact them at a4trainingllc@gmail.com, or 443-944-5138.