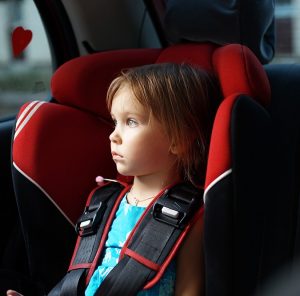 PRMC and Salisbury Fire Department Partnering on Safe Kids Maryland Demonstration
In the United States, an average of 37 children will die each year from heatstroke when left alone in cars, and 54% of the time, it happens simply because a caregiver forgot the child was in the vehicle. Awareness and behavior modifications among parents and caregivers are essential to preventing a majority of these tragic deaths.
Peninsula Regional Medical Center's Emergency/Trauma Team is collaborating with Safe Kids Maryland and the Salisbury Fire Department to increase awareness and share that critical information that could save a child's life.
On Tuesday, July 7 at Station 1 on Beaglin Park Drive in Salisbury, emergency care professionals from PRMC will join Salisbury firefighters in presenting the Safe Kids Maryland Hot Car Temperature Demonstration. The freestanding sign shows the ambient temperature outside along with the inside temperature of the vehicle to demonstrate just how rapidly a car can heat up in the sun. Even on a mild day, a car's temperature can rise quickly, increasing by 20 degrees in just 10 minutes and continue to rise.
The key is remembering to ACT: Avoid Heatstroke. Create Reminders. Take Action. The Hot Car Temperature Demonstration will be on display at Salisbury Fire Station 1 on July 7 from 9:00 a.m. to 4:00 p.m. Parents, caregivers and others are welcome to stop by at any time to learn more from hospital and fire department experts.
If you see a child alone in a car, remember to quickly call 9-1-1. Emergency personnel are trained to respond to these potentially tragic situations.