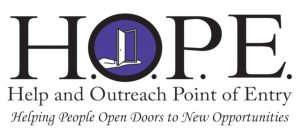 Salisbury, MD- Help and Outreach Point of Entry, Inc. would like to thank members of the Chamber as well as the community for their generous response to H.O.P.E.'s recent fundraising campaign.
"Because of you, we will be able to reach more people in need in the Tri-County area," said Donna Clark, RN, Executive Director. "Thanks to your support we have been able to resume our Dental assistance program for those who qualify and help those in need in other ways, too."
Clark shared two recent examples of how donations were put into action.  "This past week we were able to help a gentleman who desperately needed to have several teeth  extracted. The look of relief on his face warmed our hearts."
She continued, "In another case, an elderly lady who desperately needed her insulin refilled was going to have to choose between food or medications.  When she called to see if we were a food pantry, we learned of her terrible choice. Thanks to the generosity of our donors, we were able to call her pharmacy and cover the cost of her medications."
"At this very special time of year, we wanted to share the GOOD NEWS of how the community's support is making a difference in the lives of those who come to us for help," concluded Clark.
These are just two examples of how H.O.P.E. provides hope to those who feel they have no where to turn.  If you know of someone in need who would benefit from H.O.P.E.'s services or if you would like to make a donation, please email hope@hopesby.com or call 410-677-0757. For more information visit www.helpandoutreach.com.
Thank you!