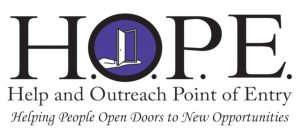 Salisbury, MD –  Despite the many challenges caused by the Covid pandemic, Help and Outreach Point of Entry, better known as H.O.P.E., was still able to positively impact the lives of the homeless, and those at risk of homelessness, living in the Tri-County area of the Lower Eastern Shore.
During their fiscal year, July 1, 2019 to June 30, 2020, H.O.P.E. served over 1,037 different individuals (445 new clients) through their outreach programs at the Wicomico Presbyterian Church office and God's Kitchen (a Saturday soup kitchen at Grace United Methodist Church, Salisbury MD). In addition, members of H.O.P.E. visited worksites, homeless camps, shelters and met people on the streets. These clients had 3,418 contacts with the organization's staff.  H.O.P.E. purchased 426 birth certificates and 62 IDs during the year, providing documentation required for housing, employment, health care and admission to school.
H.O.P.E. coordinated free eye care for 15 clients; dental care for 112 different individuals; medications for 82 people; laboratory work for 4 clients; and transportation to medical related appointments for 28 different individuals.
Lunch was provided to clients seeking services in the office on Mondays and Fridays until March 21st, when H.O.P.E. closed for the pandemic.    From July 2019 until March 20, 2020, the organization provided over 3,000 meals. Once closed, all of their food supplies were given to the City of Salisbury's Housing First program for use at their tent city, "Camp Hope".  H.O.P.E. will not be serving food again until the pandemic has passed.
According to Executive Director Donna Clark, RN, H.O.P.E. is faced with a limited amount of funding sources, including available grants. "While we do all we can to secure funding, we find the generous support of the local community to be the most reliable way to fund our work.  Remember, 100% of your gift stays local!," said Clark.
For more information on how you can help H.O.P.E., email hope@hopesby.com or visit the website helpandoutreach.com.