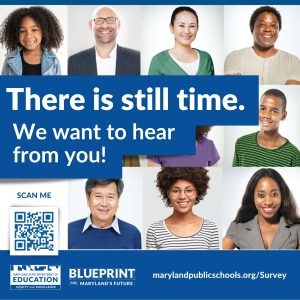 Have you completed the Strategic Planning Survey? There is still time to help the Maryland State Board of Education (MSDE) and the Maryland State Department of Education shape the future of education in Maryland!
We are reaching out to ask you to complete the Strategic Planning Survey and share this opportunity with your communities. The survey is available in English, Spanish, French, Urdu, Korean, Arabic, Vietnamese, and Chinese at marylandpublicschools.org/survey.
The State Board and MSDE are developing a strategic plan over three phases with the final release of the plan scheduled for late June 2023. This input will guide the development of a multi-year strategic plan and ensure every Maryland student has excellent and equitable educational opportunities that will help them realize their full potential.
To make this engagement opportunity as easy to share with as many Marylanders as possible, an outreach toolkit is attached and includes the following quick outreach ideas and materials:
Sample email and newsletter language to send to your listservs and communities;
Social media language and graphics to post on all platforms in English and Spanish;
And an English and Spanish flyer to distribute to your networks. If you'd like printed copies of the flyer mailed to you, just respond to this email with your mailing address and the number of copies you'd like to receive.
Thank you for your partnership and commitment to the future of education in Maryland. This is an exciting time for Maryland education and every voice counts!
If you are interested in inviting the State Board and MSDE to engagement opportunities in your communities, please complete this brief form: bit.ly/MSDEEngages.