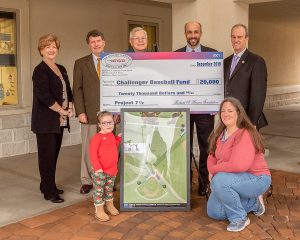 Donation will support construction of baseball field for individuals with physical or intellectual disabilities
SALISBURY, Md. – The Richard A. Henson Foundation presented Wicomico County with a $20,000 donation for the Project 7 ½ initiative at the Easterseals offices in Salisbury on Tuesday, Dec. 10.
Announced in the spring, Project 7 ½ is designed to provide individuals with physical or mental disabilities the opportunity to play the sport of baseball.
With a location between existing fields 7 and 8 at the Henry S. Parker Athletic Complex, field 7 ½ will serve as a host facility for Challenger Little League on the Eastern Shore and other inclusive programs.
Construction of field 7 ½ will commence within the next month, and completion is expected this spring.
"The response we have received from the community has been encouraging," said Steve Miller, Director of Wicomico County Recreation, Parks & Tourism. "We are looking forward to the opportunity to serve this segment of the population."
Donations for this initiative are still being accepted. As more funds are collected, the opportunities to enhance the field's amenities increase.
Donations can be made online through the Community Foundation of the Eastern Shore's website at https://www.cfes.org/donate. (Select "Challenger Baseball Fund" from the drop-down menu.) Donation/pledge forms can be downloaded from the Wicomico County Recreation & Parks website.
For more information about Project 7 ½ and the capital campaign, visit www.WicomicoRecandParks.org.
Photo caption: Pictured from left to right are Donna Altvater, Executive Director of the Richard A. Henson Foundation; Victor H. Laws III and Gordon D. Gladden, trustees of the Richard A. Henson Foundation; Steve Miller, Director of Wicomico County Recreation, Parks & Tourism, Wicomico County Executive Bob Culver, Cheyanne Shrieves and Heather Shrieves.