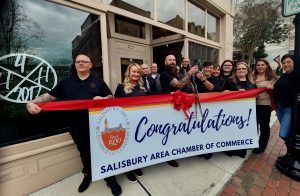 On March 1, 2023, the Salisbury Area Chamber of Commerce joined Co-Founders Tish Ottey and Brandon O'Brian of Homes4Hope in the ribbon cutting of their new Outpatient Center located in downtown Salisbury, MD.
Homes4Hope, locally and family-owned, was created in 2017 with the opening of its first Recovery House, Douglas K. Hamilton House for Recovery. The goal was to create a home for individuals battling substance abuse where they would feel safe and proud to call it home. Since its creation, Homes4Hope has grown and now provides two ASAM 31 residential treatment facilities, two recovery houses, and their outpatient facility – all located in Salisbury.  
The organization is committed to helping individuals recover in a beautiful, clean, safe, and supportive environment; and with the help of experienced professionals dedicated to providing the highest quality of care. Homes4Hope services include outpatient mental health, outpatient substance use, medication management/ MAT treatment, ASAM 3.1 low-intensity residential treatment for addictions, and recovery housing for adult men recovering from substance use disorder. 
Tish, a retired police detective sergeant, became interested in helping individuals with substance abuse towards the end of her police career. "Thanks to our staff, family, and friends for all your support. We started in 2017 with one recovery house in Salisbury and have grown to 2 recovery houses, two residential treatment centers, and this outpatient center for mental health addiction and medication management. We are very fortunate and blessed to have amazing, competent staff who give 110% daily.
We are looking forward to providing services at this Outpatient Center to many more people that don't come through our homes but can come in here and have a warm atmosphere that does not feel intimidating but inviting and relaxing. 
Co-founder Brandon O'Brian told the attendees, "This is a seriously passionate project for me, in a completely different way that for my wife Tish, because I am an addict. I have been to treatment centers before and walked into those sterile environments. I was the person that was there scared to receive treatment for the first time. This has been a fun and rewarding project for us because we got to create something we feel that is warm and inviting. It is a place where people can go and feel that there are people who can help them tackle the issue at hand. Nothing is more rewarding than being a part of a community that can do that. Thank you for being here."
In addition to Homes4Hope in Salisbury, they are also Founders of Homes4Recovery, Inc, a nonprofit organization created to provide safe, sober, and structured living environments for those in early recovery from substance use disorder. 
During the ribbon cutting, guests enjoyed appetizers from Chamber member Roadie Joe's Bar and Grill. Door prizes included a gourmet coffee basket, a Delmarva Shorebirds gift basket and gourmet boxes of sweets.
For more information about Homes4Hope, please visit www.homes4hopellc.com or call 443-359-9830.