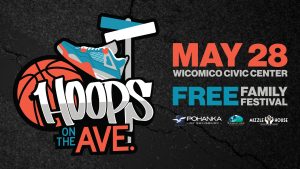 New event features basketball, music, arts, sneakers and kids' activities
SALISBURY, MD – Three vs. three basketball tournaments. Live music. Arts. Sneakers. These are all part of a new event called Hoops on the Ave., a partnership between Wicomico County Recreation & Parks and the Mizzle House Foundation.
Hoops on the Ave., sponsored by Pohanka of Salisbury, is an outdoor family-friendly festival celebrating the culture surrounding the sport of basketball. It's set for Saturday, May 28, outside the Wicomico Civic Center in Salisbury. The event will run from 10 a.m.-8 p.m.
"This event is all about celebrating hoops culture – the music, the art, the kicks, the food and of course the basketball," said Recreation Superintendent James Simmons. "We are aiming to create an experience that brings all of these elements together in a way that the Eastern Shore has never seen before."
C-Mack, the Kaleb Brown Band and the Changing Phaces Band will each perform on the main stage. Catch The OG Show Proving Grounds Competition and Rhythm & Roots from Prince Street Elementary, too.
Three lucky participants will have the chance to win $10,000 in the Pohanka $10K Hot Shot promotion. Attendees can qualify to be one of three people randomly selected to try to sink a shot for $10,000.
Set up a hair appointment with Dstinct Dsigns Mobile Grooming, and see art by Miriam Moran and Hootie Hoo. Take part in a community chalk mural or the Governors Challenge Skills Challenge. Kids can also enjoy inflatables and face painting.
There is still time to register for the event's 3v3 basketball tournaments, which will feature five divisions: Elite Men's, Men's, Women's, High School and Middle School. Youth divisions must have an adult coach.
Each team is guaranteed three games. Prize money will be awarded in the adult divisions: $1,000 for Elite Men's and $250 each for Men's and Women's. Teams can have up to four members and will play half-court games in the Civic Center parking lot.
Registration is $100 for teams in the Elite Men's division, $75 for Men's and Women's teams, and $50 for High School and Middle School teams.
"I can't think of a better way to kick off the summer for our community," Simmons said.
To learn more, register a team or sign up as a vendor, visit www.bit.ly/Hoops_on_the_Ave. For more information or to become a sponsor, email Simmons at jsimmons@wicomicocounty.org.