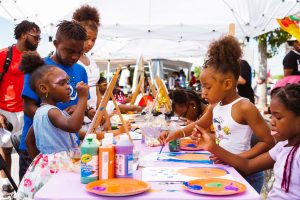 Salisbury, MD – Fifty-six teams. Nearly 100 three-on-three basketball games. Music. Arts. Sneakers. Kids activities. Food.
Experience it all at Hoops on the Ave. this Sunday, May 28 at the Wicomico Civic Center in Salisbury. The free, outdoor, family-friendly festival runs from 12-8 p.m.
"The positive feedback and support we received in year one of this event was incredible," said Recreation Superintendent James Simmons. "We are excited to bring it back for year two with more basketball, more music, more art, more everything."
Basketball
Nearly 100 three-on-three basketball games will be played throughout the day. Highlight events taking place on Center Court include:
Full Court Press: Four one-on-one match-ups between 2-4 p.m.
Pohanka Hot Show Contests at 6:45 p.m.
Piedmont Airlines 3 Point Competition at 6:50 p.m. (The public can qualify between 12-6 p.m.)
Piedmont Airlines Slam Dunk Contest at 7 p.m.
Entertainment
The entertainment lineup includes C-Mack & Friends, Crank Caviar, Rhythm and Roots, Live 97.5 DJs, OG Show Artist Showcase presented by Columbia Records, OG Show DJ Interactive Experience and local step team performances.
Kids' Activities
Hoops on the Ave. keeps school-aged kids engaged with free activities including tie dying, haircuts, an interactive chalk walk, coloring activities, bucket drumming lessons and the Governors Challenge skills & drills experience. An inflatable park and game truck will also be on site.
The event also features Tip Off: an art installation featuring the work of local schools and children, Live 97.5 Health Fair, sneaker and clothing vendors and local food trucks.
"We're continuing our goal of cultivating an experience that brings all of these elements together right here on the Eastern Shore," said Mizzle House Vice President Andrew Davis. "There's no better place to kick off the summer than at Hoops on the Ave."
Hoops on the Ave. is a partnership between Wicomico County Recreation & Parks and the Mizzle House Foundation, and is presented by Pohanka of Salisbury.
To learn more, visit www.bit.ly/Hoops_on_the_Ave.