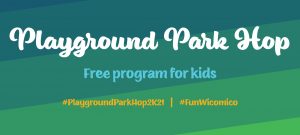 SALISBURY, MD – The Playground Park Hop is a free program for kids happening on Tuesdays at various community parks this summer.
Beginning June 22, children can enjoy games, sports, a TikTok filming station, arts & crafts and more. The program will take place from 2-5 p.m. at the following locations:
June 22 at Lake Street Playground
June 29 at Gordy Park
July 6 at Indian Village Playground
July 13 at Fruitland Recreational Park
July 20 at Billy Gene Jackson Sr. Park
July 27 at Hebron Lions Park
Aug. 3 at WinterPlace Park
Aug. 10 at Doverdale Playground
"Having accessible fun opportunities for the youth in our community is important, especially during the summer months" said Jamie Nichols, program director for Wicomico County Recreation & Parks. "The Playground Park Hop is a free program where we hope kids can stop by their local parks and have some fun for a few hours."
More information about the program can be found at www.WicomicoRecandParks.org.