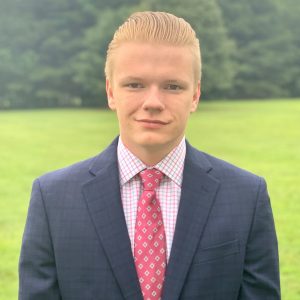 Salisbury-Ocean City, Maryland, August 5, 2019– Hunter Landon has joined Adams Radio of Delmarva as News Director. He will be responsible for news on all 5 Adams brands in Salisbury – Ocean City including WZBH (The Beach), WOCQ (OC 104), WGBG (BIG 107.7), WUSX (Everything Country 98.5) and KOOL Oldies as well as the Adams Digital Products.
Hunter is currently attending college and is working on a BS in Broadcast Journalism. Hunter was formerly a reporter WGMD NewsRadio in Lewes, Delaware. His lifelong passion for journalism started at 6 years old…a pattern we see often with radio talent!
Hunter states, "As a lifelong Delmarva resident, it is a career highlight to be running the newsroom for a first-class radio operation like Adams Radio of Delmarva. I am ecstatic to be delivering the news to the people of Delmarva on radio and digital for the market's best stations and launching a fresh and revamped news department focused on the local community."
Lisa Layne, VP/GM of Adams Radio added "Once again we have struck gold with the addition of Hunter Landon as the News Director of Adams Radio in Salisbury-Ocean City. The news format will be timely, local, and live across all our brands. I am thrilled to add Hunter to the Dream Team at in Salisbury-Ocean City!"
Adams Radio Group is a medium market media company focused on local radio operations and creating great marketing opportunities in the local communities. We are heavily involved in the areas we serve and are dedicated to the growth and success of the communities and clients we serve. Our employees are well seasoned radio professionals that know how to work with local businesses. Our success comes from embracing the local market, our employees, and the core values of local radio. Each of our markets is live, local and focused to super serve!
Adams owns and operates stations in Fort Wayne, Suburban Chicago, Las Cruces, Tallahassee and Salisbury-Ocean City.