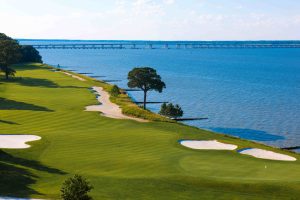 Cambridge, MD – Hyatt Regency Chesapeake Bay Golf Resort, Spa and Marina, a waterfront resort located on 342 acres of Maryland's Eastern Shore, has been named among the "Best Of 2023" by Coastal Style Magazine, one of the leading lifestyle magazines of the Eastern Shore. The hotel's River Marsh Golf Club was recognized as "Best Golf Course" in Dorchester and Talbot County by the readers of the publication. Additionally, Abby Messick, Director of Golf at Hyatt Regency Chesapeake Bay, was named "Golf Professional of the Year."

"We are thrilled and honored be recognized in Coastal Style Magazine's 'Best of 2023' awards," said Abby Messick, Director of Golf at Hyatt Regency Chesapeake Bay Golf Resort, Spa and Marina. "When guests visit our incredible River Marsh Golf Club, they have access to a premier Eastern Shore golf experience paired with top-of-the-line equipment and our talented team of golf professionals. The course is expertly designed to showcase our unique waterfront location while providing a challenging and fun experience for golfers of all skill levels."
The winners of Coastal Style Magazine's "Best of 2023" awards are selected by industry experts and feedback from readers who vote for their picks in categories ranging from culinary excellence to innovative architecture. The awards select winners based on their achievements, creativity, dedication to promoting a coastal living lifestyle, and more. For a full list of the 2023 winners, please visit: https://coastalstylemag.com/best-of-2023/ 
River Marsh Golf Club provides a premier golf experience featuring a coastal low country feel that showcases the area's distinctive terrain of untouched forests, open fields, and spanning waterfront views.  The course provides two signature holes including the 17th hole, a par 3 stretching 200 yards over Shoal Creek, and the 18th hole which runs along the Choptank River from tee to green. The golf club also recently debuted a state-of-the-art golf simulator "The Cove" for year-round play. The golf simulator, developed by TruGolf, has an extensive library of courses and game-modes to ensure competitors are challenged. When golfers reserve "The Cove," they can select from a variety of course options, ranging from Bandon Dunes in Oregon to Pebble Beach in California. New and experienced players looking to perfect their swing can take advantage of the augmented reality analysis with a lesson in "The Cove." Additionally, the simulator eliminates the need to track a game's progression, as it keeps detailed accounts of rounds played, practice sessions, scores and ball statistics.
Abby Messick is the Director of Golf at Hyatt Regency Chesapeake Bay Golf Resort, Spa and Marina. Hired as part of the resort's opening team, Messick started her career as a Pro Shop supervisor and was promoted to Assistant Golf Professional in 2008. In 2018, she became the first female Director of Golf at the resort where she oversees all aspects of the golf experience. Through her expertise and dedication to providing an unmatched golf experience, Messick has helped put River Marsh Golf Club on the map as the premier course on the Eastern Shore. She recalls the resort's opening fondly where the pre-opening team banded together to put furniture in rooms, assemble merchandise in the pro shop, and prepare ballrooms for their big debut, and she credits her colleagues and Hyatt family with her successful 20-year career. When Messick is not at work, she enjoys spending time with family and friends, traveling, getting out on the water, and visiting the gorgeous beaches around the area. 
River Marsh Golf Club also provides several opportunities for group golf outings including the 4-hole loop experience. This option offers an abbreviated round of golf on the course's first four holes, and is designed to help planners get attendees on the course while sticking to a busy agenda.  Additionally, groups can take lessons with PGA and LPGA professionals, enjoy glow golf which implements inflatable targets and LED glow golf balls, and traditional and scramble-style tournaments.
For more information or to book a stay at Hyatt Regency Chesapeake Bay Golf Resort, Spa and Marina, please visit hyattregencychesapeakebay.com, or call (410) 901-1234. 
About Hyatt Regency Chesapeake Bay Golf Resort, Spa and Marina
Situated on 342 acres on the Eastern Shore of Chesapeake Bay, Hyatt Regency Chesapeake Bay Golf Resort, Spa and Marina provides an unforgettable destination for business and leisure travelers.  The AAA Four Diamond resort features 400 comfortable and modern guestrooms, and more than 37,000 square feet of indoor function space complemented by more than 85,000 square feet of flexible outdoor event areas and terraces.  Amenities include 18 holes of pristine golf running along the Choptank River at the River Marsh Golf Club, the full-service Sago Spa & Salon, and a 150-slip marina with both fixed and floating docks.  As a waterfront destination, the resort provides several water sports and activities including kayak, paddleboard, jet ski, powerboat, and catamaran rentals; multiple pool options including an outdoor infinity pool overlooking the river, an outdoor activity pool with a water slide, and the glass-enclosed Water Garden featuring a heated indoor pool, and indoor/outdoor hot tub, and dive-in movies throughout the year.  The resort features a plethora of regionally-inspired dining options at its on-site restaurants including the Blue Point Provision Company, Water's Edge Grill, Bay Country Market, Dock's Poolside, Michener's Library, Eagle's Nest Bar & Grille, and the Off the Rook waterfront bar.  To learn more, call (410) 901-1234 or visit HyattRegencyChesapeakeBay.com.  Follow @HyattChesapeake on Instagram and @HyattRegencyChesapeakeBay on Facebook.
About Hyatt Regency 
The Hyatt Regency brand prides itself on connecting travelers to who and what matters most to them. More than 175 conveniently located Hyatt Regency urban and resort locations in over 30 countries around the world serve as the go-to gathering space for every occasion – from efficient business meetings to memorable family vacations. The brand offers a one-stop experience that puts everything guests need right at their fingertips. Hyatt Regency hotels and resorts offer a full range of services and amenities, including the space to work, engage or relax; notable culinary experiences; technology-enabled ways to collaborate; and expert event planners who can take care of every detail. For more information, please visit hyattregency.com. Follow @HyattRegency on Facebook, Twitter and Instagram, and tag photos with #AtHyattRegency.