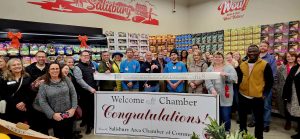 The Salisbury Area Chamber of Commerce was delighted to join Joe Bean, owner of Grocery Outlet Bargain Market on December 15th as he held the official ribbon cutting for this new grocery store in Salisbury, MD on the exact same day the store opened!  Grocery Outlet Corporate staff and store owners , Kyle Noble, Ashley Chaney, Cameron Cook, Traci Kay, Tommy Basham and Michael Safo assisted with the opening's marketing and product placement in the new store.
Grocery Outlet – Salisbury opened its doors at 8 AM on Thursday, December 15, 2022 and had a line of 100+ customers ready to hit the aisles albeit the rainy day! The first 100 customers received a Bliss Buck Gift Card (with values between $5 and $500), and a free limited edition reusable Salisbury "branded" bag.  During the ribbon cutting, over 50 members of the chamber stopped by to support Joe on this opening day.
Grocery Outlet – Salisbury's franchise is locally owned and operated by Joe Bean, who knocked on the SACC's doors back in July 2022 to get to know the community a little better prior to moving to Salisbury in October 2022.  Joe, a retired government employee, made the cross-country drive from California with his canine kids Osiris and Isis.  Coming from a small town, he immediately fell in love with Salisbury and the sense of community he encountered. " First of all, thank you everyone for coming up.  This is what attracted me to Salisbury, it's people, the community.  I grew up in a small town and then moved to California.   Everyone here is caring and polite, let's keep it that way!   He expressed his special thanks to the SACC for the guidance provided…"this is one of the best Chambers I have ever worked with", and has embraced supporting other SACC members, such as BBSI, Avery Hall, Affordable Business Systems and Motif Expressions Promotional Products, by using their services.  He has also partnered with non-profit SACC members Hope and Life Outreach (HALO) and US Kennels, by providing products/items that cannot be sold in the store. HALO was awarded a check for $1,000.00 to be used as they most need it.
Mayor Jake Day attended the ribbon cutting and thanked Joe for choosing Salisbury as the site for his store.  "Good to see so many faces here!  Right now I am thankful to Joe for four things.  First in the changing landscape of retail in America, you are filling an empty space, avoiding what could have been an empty box, with nothing going on, you are filling it with people and activity.  Second, nothing happens without hard work, and Joe has demonstrated what that means.  Third, you have 31 people working here, creating new jobs and opportunities in our community.  And last but not least we have a lot of hungry bellies in our community, and you are feeding them up in an affordable way.  And for that I want to thank you."
Grocery Outlets opened in 1946 and has over 430 stores across the nation with more than 1.5 million shoppers hitting the aisles each week making it the nation's largest extreme value retailer.  How do they do it you ask?
When a brand has excess inventory from packaging changes or manufacturing overruns, they contact Grocery Outlet.  Grocery Outlets buys these excess products for pennies on the dollar, passing the savings to the customer. Each local store owner chooses products from the inventory that their customers will love the most, personalizing each store's selection to its local community and then puts then on its shelf – …and yes, you will find Old Bay at the Grocery Outlet – Salisbury!
The store carries everything from produce, fresh meat, dairy/deli, frozen foods, health and beauty and general merchandise.  Check out the WOW section where prices will be 50% or more off retail or their NOSH (Natural, Organic, Sustainable, and Health Foods) aisle for extraordinary products! Brand new bargains arrive daily, so visit frequently to find what's in store.
To receive information on weekly specials and receive a $5 off coupon, sign up at www.groceryoutlet.com/grand-opening/salisbury.  For new emails only, and valid until January 12, 2023.  You can also follow them on Facebook at www.facebook.com/SalisburyGroceryOutlet.
Opened every day from 8am-9pm, you can visit them at 2653 N. Salisbury Boulevard, Salisbury MD.