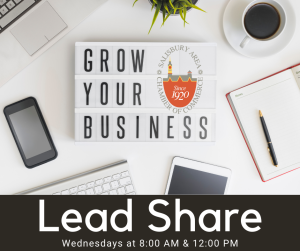 The Salisbury Area Chamber of Commerce offers many opportunities to help grow your business. One such opportunity is Lead Share. Lead Share groups differ from regular networking events in that they are all about passing active leads to members of the group.
The SACC Lead Share groups are comprised of Chamber members that are industry exclusive. Lead Share groups are a group of local professionals who are considered leaders and innovators in their field with the specific desire to grow their business by promoting it to like-minded peers in both the community and business environments.
The SACC Lead Share group has been a huge success, such that it has expanded to include a Wednesday morning group. The newest group meets at 8:00 AM in the conference room on the 4th floor of the Salisbury University Gallery Building, at 212 W Main Street in Downtown Salisbury.
Access is easy, with lots of parking available, and an elevator to the fourth floor from Plaza side. You can become part of the group of dedicated professionals. Increase your knowledge of local businesses, develop contacts, and learn of events that will help you and your business grow.
Participants build rapport and strong working relationships that support each other's business initiatives through the sharing of referrals, customers, and suppliers.
Participation in Lead Share:
grows your bottom line
increases your professional network
sharpens your sales presentation skills
increases the centers of influence supporting your operations
is industry exclusive, so there is no direct competition within the group
Here is the best part – there is NO COST to you! Participation is included in your annual SACC membership.
Know a business associate that could use some referrals? Bring a contact name or a guest and show them what Lead Share can do to help their business grow!
For more information about the Lead Share Groups, contact Greg Reddell at greg.reddell.g7g7@statefarm.com, or call 410-742-3101.
####