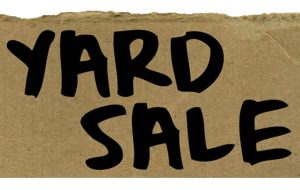 Shop from hundreds of tables at the Civic Center        
SALISBURY, Md. – Shop from numerous sellers all in one place at the Indoor Community Yard Sale on Saturday, Jan. 11.
The yard sale will run from 7 a.m.-noon at the Wicomico Youth & Civic Center, and admission for members of the public who want to shop is $3 per person. Children younger than 12 are admitted free when accompanied by an adult.
"We're excited to have an arena packed with sellers for the Indoor Community Yard Sale," said Civic Center Manager Katie Rouse. "Come by and see what kinds of cool things you can find."
Seller booths are sold out, and table rentals are $15. Regular setup for sellers will begin at 4 a.m. the morning of the sale. Early setup for sellers is available on Friday, Jan. 10, from 5-8 p.m., for an additional $5.
Reservations for table rentals can be made at the Wicomico Youth & Civic Center box office (500 Glen Ave., Salisbury, MD, Monday-Friday, 9 a.m.-6 p.m.), online at www.WicomicoCivicCenter.org (an online fee may apply) or by phone at 410-548-4911. The deadline to reserve a table is Jan. 10 at noon, if space remains.