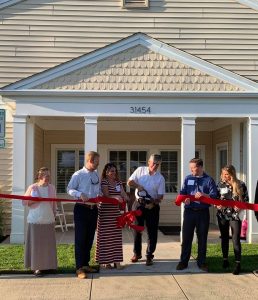 By Cathy Diekmann
For many, not only "young people," retirement is just a notion. We know what we "should" be doing to prepare for it, but the busyness of life and more immediate financial interests cause our long-run goals to become blurry. Good intentions don't create a good plan or results.
InFocus Financial Advisors, Inc. assists clients of all ages to achieve (and maintain!) clarity with retirement preparation, management, and investment so that your investment lasts as long as you do.
The company recently moved to a new, beautifully renovated location at 31454 Winterplace Parkway in Salisbury and marked the occasion with a SACC ribbon cutting on October 1, 2020.
During the program, InFocus President, Eric Johnston, CFP, thanked fellow Chamber members, clients, and team members who have supported the company over the years. "This is our fifth move, and I think John McClellan (of SVN-Miller Commercial Real Estate) has seen us through all of them."  Johnston added, "I'm so lucky to be in this community and work with the people that I do."
Developing retirement investment solutions that meet each client's goals is central to the InFocus process, but a lot more goes into implementing a successful plan. Johnston explained that his team advises clients on social security claiming strategies, savvy budgeting for retirement (a task many people neglect), Medicare and estate planning, investment forecasting and client services.
"We offer an organized process in everything do. It takes six of us to do that."   In addition to Johnston, the InFocus team includes Vice President and Financial Advisor, Robert Jeter, CFP, CRPC; Senior Relationship Manager, James Whitlock; Client Services Manager, Carol Kurtz, CPA, PFS; Relationship Manager, and Caitlin Bunting.
Smiling slyly, Johnston added "The sixth, secret partner is my wife, (Heather Johnston.) She does all the Chief Financial Officer duties for the company… When you have forecasting and your numbers are solid, you can do all the things you need to do with the utmost confidence."
In addition to thanking Chamber members, Johnston also recognized the guests who drove over an hour to join the InFocus team for this special event. Some of those individuals were initially clients of Johnston's father, Paul R. Johnston, for whom a wall of plaques and photographs is dedicated in Eric Johnston's new office.
"I've been doing this for 27 years now. It is all I've ever done – getting people to retirement. It's my life's work. I'm that committed and that passionate about it. It's a big darn deal to me… We have hired the staff and have the resources to do that right."
What about your business are you passionate? Why not share those skills and knowledge with the Salisbury Area Chamber of Commerce? Strong business + a Strong Chamber = Strong Communities. Be a part of that equation! Check out the SACC website at www.salisburyarea.com to get involved.