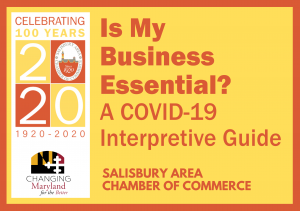 At Governor Hogan's 11:00 AM press conference this morning he announced that all non-essential businesses have to close today by 5:00 PM.  The attached guide will help you determine if your business is deemed essential or non-essential.
In addition, several new programs designed to help small businesses were announced.  Please visit this website for details.
https://govstatus.egov.com/md-coronavirus-business  
Financial Assistance & Taxes
The Maryland Department of Commerce is offering three new business assistance programs in response to the COVID-19 pandemic:
Maryland Small Business COVID-19 Emergency Relief Loan Fund – This $75 million loan fund offers no interest or principal payments due for the first 12 months, then converts to a 36-month term loan of principal and interest payments, with an interest rate at 2% per annum. Learn more.
Maryland Small Business COVID-19 Emergency Relief Grant Fund – This $50 million grant program offers grant amounts up to $10,000, not to exceed 3 months of demonstrated cash operating expenses for the first quarter of 2020. Learn more.
Maryland COVID-19 Emergency Relief Manufacturing Fund – This $5 million incentive program helps Maryland manufacturers to produce personal protective equipment (PPE) that is urgently needed by hospitals and health-care workers across the country. More information coming by Friday, March 27, 2020.