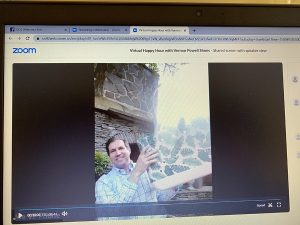 By Cathy Diekmann
Thursday, May 14, 2020 was a perfect Spring night for the Salisbury Area Chamber of Commerce to gather for Happy Hour with featured guest, Joe Wright of Vernon Powell. However, due to Covid-19 restrictions, guests were still stuck at home. The event took place via Zoom.
After quick introductions and some conversation about what they might do now that Maryland Governor Hogan relaxed some stay-at-home restrictions, guests participated in a virtual scavenger hunt.
This was not the scavenger hunt typical to middle school or business retreats for which participants run through homes or neighborhoods to obtain random items. This scavenger hunt limited participants to what they could reach from their chairs and included items likely to be parked near their laptops: hand sanitizer, a datebook, a phone charger. A few items were fitting for the stress of lockdown: a giant-sized chocolate bar, a bottle opener (most guests were prepared) and a 600-count bottle of ibuprofen.
There was a twist.
Three of the four rounds included an item that only one participant, Wright, had available. Those items are some of Vernon Powell's top sellers: a Yeti Hopper Flip Cooler, Hoka One Clifton running shoes, and a Bogg tote bag.
Wright hoisted each of these items for all to admire and shared why each item is sought after.
Leslie Zimmerman, Eastern Shore Constituent Events Manager for the Alzheimer's Association, and keeper of a well-stocked purse earned the top score to win a $20 Vernon Powell gift card.
SACC CEO/President, Bill Chambers, provided an update regarding business recovery news and resources. Chambers acknowledged that there was widespread disappointment on the Lower Shore and Western Maryland that Governor Hogan's most recent Executive Order did not give local authority the option of offering limited, socially-distanced, outdoor seating at restaurants. Chambers and other officials on the Shore and in Western Maryland immediately stepped up the pressure for Hogan to add that provision to Executive Order #6. "We'll have to see where that goes," Chambers said. "There's a flicker of hope."
Chambers also explained some key points included in the U. S. House of Representatives' third Covid-19 relief package. At question is whether businesses can move forward the start date for their Paycheck Protection Program (PPP) and whether additional funds might be added to the initial plan. "We are urging our senators and congressman to adopt those key elements," Chambers explained.
Chambers also shared that he, Mike Dunn of the Greater Salisbury Committee, and Dave Ryan of Salisbury Wicomico Economic Development have met with representatives of Wicomico County and the City of Salisbury to discuss local measures for restoring consumer confidence.
As the featured guest, Wright responded to questions about Vernon Powell's business history, luck, product diversity, and adopting their personal customer service model to Covid-19 restrictions.
The company, founded in 1936 by Wright's great-grandfather, Vernon Powell, began with one store in downtown Salisbury.  "When he started the business, it was all about fit… If the shoes didn't fit, it was a big deal," Wright noted.
Over the decades, more stores opened throughout the Eastern Shore – Seaford, Milford, and Rehoboth Beach, Delaware, and Easton, Ocean City, Maryland. "At one point we were up to 20 stores on the Shore, 8 of which were in Salisbury because of the two malls." Wright acknowledged that situation wasn't ideal.
In 2000, after networking with his peers, Phil Wright, came up with the idea of building a store in a field behind the Centre at Salisbury. Joe Wright attested, "That was the catalyst to growing our business. That's when things really took off. We were able to carry so many more products and we had everything under one roof."
Wright noted that at one time, having so many locations, to cater to different customers– men, women, and athletes  – made sense. "What we found when we opened the store behind the mall, a husband and wife could come in together. They can spit up, and both walk out with a purchase."  Wright concedes that opening that store was stressful. "Everybody thought we were crazy, opening in the middle of a field, with a giant store, but right away, we were 40% up that first year. It was definitely the best move we ever made."
Having so much more room allowed Vernon Powell to diversity their product lines – one of the first was Vera Bradley. At the time, a Vera Bradley bag or accessory was a "must-have" item for everyone from young girls to senior citizens. "We had a really good run with Vera Bradley," Wright confirmed, chuckling, "That was lucky."  
From there, accessories became a driving force for the company. They got lucky again when Phil Wright was introduced to a new line, Pandora, at a trade show.  That product took off just as the Vera Bradley craze was trending down. After Pandora, they found Alex and Ani, another jewelry line with a wide appeal.
Sometimes a brand can take your business to a place you never dreamed of. Vernon Powell wasn't in the jewelry business when they opened their store behind the mall. Now jewelry sales are a significant part of their business. "Our peers often ask us, 'How did you do that?' The answer is luck," Wright smiles broadly. "We were in the right place at the right time and it worked out great."
The conversation circled back to the company's founding principles – a good fit and personal customer service.  Wright acknowledged that the Covid-19 restrictions will sideline their high touch service of personally sizing a customer's foot and sidling up on a fitting stool to put shoes on a customer.  "We'll certainly be doing everything we need to –  cleaning, wearing masks and moving things around the store to meet social distance guidelines. We'll figure it out. We have a great staff that can think and do on the fly."
Kathryn Maney, the new President/CEO Calvert County Chamber of Commerce, echoed Wright's approach.  "Now is the time to think out of the box, to be creative… to come together and focus on recovery."
That takes more than luck. That takes collaboration. The Salisbury Area Chamber of Commerce is all about collaboration. Let's get on with it.