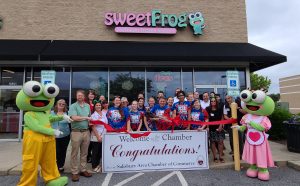 The Salisbury Area Chamber of Commerce welcomed sweetFrog – Salisbury with an official ribbon cutting on July 7th at their convenient location on the north end of town.
Owner Christina Herring, an avid supporter of being a Chamber member, welcomed guests and introduced her staff and family.  Christina lives in Annapolis, has her own very successful marketing firm, and has been working with sweetFrog for 8 ½ years. For the last 5 years, she has been working in marketing and promotion for 14 of sweetFrog stores across the country.  When she heard that the Salisbury store was being sold, she did not hesitate in making this her very first franchise store!
Christina shared "The thing with sweetFrog is that we take everything that sweetFrog's thinks of doing and we do it to its best.  Besides having very healthy yogurt, we have a line called Sweet Innovations (some items are available in our bar daily), we offer gluten-free & dairy-free options, and we now have ice cream sandwiches and ice cream cakes.  This store is unique because we have a lot of space where we can hold birthday parties, field trips, free craft events, paint parties, book signings, story times, home school events, and much more!    We strive to be a great community partner, by offering fundraisers for local schools, church and youth organizations. We also support group fundraising efforts with donations, class parties, and special appearances from our mascots, Cookie & Scoop.  Our store, which is open every day of the week, also has a party room and a small meeting room that are available free of charge. "
sweetFrog – Salisbury is the ideal local spot to create your own combination of delicious, soft-serve premium frozen yogurt, then finish it off with any toppings you choose! The toppings bar is stocked fresh every day with the best of 75+ ingredients for a light snack, a decadent dessert, and everything in between.
During the ribbon-cutting, a group of 35+ members, family and friends enjoyed a variety of appetizers, sweet innovations, and of course "create your own yogurt cup" for dessert.  Each guest received a door prize and the grand door prize was an ice cream cake.
For more information, please contact Christina Herring at 443-358-5111, www.sweetfrog.com/stores/35312  or visit at 2721-E N Salisbury Blvd, Salisbury, MD.