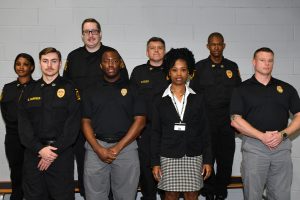 Thirty-three jail and correctional officers from Wicomico, Worcester, Somerset, Dorchester and Talbot counties graduated in the 117th entrance-level class of the Eastern Shore Criminal Justice Academy (ESCJA) operated by Wor-Wic Community College in Salisbury.
Graduation exercises, which were held in Guerrieri Hall on the college campus, featured a commencement address by Dr. Jennifer A. Beskid, executive director of the Correctional Training Commission.
Donald Rollyson Jr., associate director of the ESCJA, and Rob Dell'Erba, ESCJA coordinator, presided at the ceremony. Bryshonda Robinson of the Talbot County Department of Corrections was the class speaker.
In addition to Robinson, graduates included Adrian Condell, Jacob Corry, Ty'quan Cunningham, Ijukakumo Festus-Ari, Thomas Freelove, Dalra Handy, Johnnie Hitchens, Isaiah Morris and Robert Robbins of the Wicomico County Department of Corrections; Patricia Abrams, Karen Jones, Justin Newsome and William Taylor of the Worcester County Jail and Detention Center; Nicholas Bradford of the Somerset County Detention Center; Collin Bradshaw, Kenneth Conklin, Loudnise Edmond, Ethan Harshbarger, Christopher Hutchins, Edil Nieves, Cheryl Richardson, Lineda Saint Louis, Brandon Sturgis, Steeve Toussaint and Robert Tyler of the Eastern Correctional Institution; Kutiesha Bailey, Matthew Bohler, Brian Elzey, Master Shipley and Drew Warfield of the Dorchester County Department of Corrections; and Torrey Boyd and Luke Stern of the Talbot County Department of Corrections.