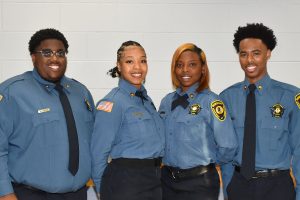 Eleven jail and correctional officers from Wicomico, Worcester, Somerset and Talbot counties graduated in the 113th entrance-level class of the Eastern Shore Criminal Justice Academy (ESCJA) operated by Wor-Wic Community College in Salisbury.
Graduation exercises, which were held in Guerrieri Hall on the college campus, featured a commencement address by Carl Crumbacker, ESCJA instructor.
Donald Rollyson Jr., assistant director of the ESCJA at Wor-Wic, and Rob Dell'Erba, ESCJA coordinator, presided at the ceremony. Michael Duncan of the Wicomico County Department of Corrections was the class speaker.
In addition to Duncan, graduates included Tashaila Holland, Tyshae King and Darrell Powell Jr. from the Wicomico County Department of Corrections, Daphne Griffin, Kimberly Hayes, Chanel Hunter, Jessica Lewis and Nahomie Saint Rival of the Eastern Correctional Institution, Turhanda Opher of the Dorchester County Department of Corrections and Olivia Maddox of the Caroline County Department of Corrections.