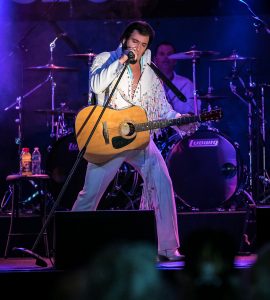 SALISBURY, Md. – Jesse Garron's Tribute to Elvis comes to the Wicomico Youth & Civic Center for a Christmas-themed dinner and show on Saturday, Nov. 30.
Garron possesses the voice, looks and charisma that made Elvis a superstar. Backed by live musicians and female vocalists, Garron performs songs that cross three generations of rock, pop, gospel and oldies. This Vegas-style rendition has earned a reputation for professionalism, as well as countless standing ovations. Garron is a natural front-man, who interacts with the crowd and signs autographs after the show.
The set list for this show will include Elvis' favorite Christmas songs.
The dinner menu includes garden salad with dressing, burnin' boneless buttermilk fried chicken, herb roasted baron of beef, hound dog greens, tupelo honey glazed carrots, moody blue smashed potatoes, sweet cornbread, rolls and butter, iced tea, water and coffee and assorted desserts. A cash bar will be available.
Dinner begins at 5:30 p.m. and the show begins at 7 p.m. Tickets are available at www.WicomicoCivicCenter.org, via phone at 410-548-4911 or at the Wicomico Youth & Civic Center box office, 500 Glen Ave., Salisbury, MD 21804 (Monday-Friday, 9 a.m.-6 p.m.). Ticket sales close on Tuesday, Nov. 26 at 4 p.m.