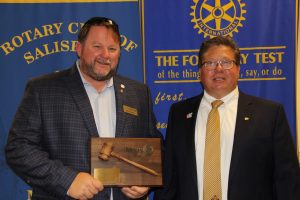 John Aukward, a 14-year Rotarian, was introduced on Thursday, June 25 as the 2020-2021 President of The Rotary Club of Salisbury. Aukward was nominated by a committee of Past Presidents and unanimously accepted by club members on January 3, 2019 as the 2020-2021 President-Elect.
Aukward, Vice President, Eastern Shore Branch Manager at The Bank of Delmarva, has held a number of leadership roles in the club. He is the Immediate Past Membership Chairman, a three-term member of the Board of Directors and has served as the District 7630 Treasurer. His community service includes Wicomico Hope, Lower Shore Children's Center, Sigma Alpha Epsilon Fraternity, the Furnace Town Board, and a term as President of his homeowners association.
"We are beginning a new Rotary year in extraordinary times. I look forward to navigating the challenges before us and accomplishing many projects that will benefit our community," said Aukward. "We have a very talented group of men and women that will continue to work together for the greater good of our community. I'm excited to get this year rolling."
Aukward's one-year term begins as President Chris Layton's ends; a year filled with unprecedented challenges during COVID-19. "With all the challenges, we still have had a great year. It has been a privilege and honor to be the club's President in our centennial year," added Layton.
Annually, The Rotary Club of Salisbury channels nearly $90,000 back into our community through the support of agencies and causes including: Boy Scouts, Girl Scouts, scholarships for local high school and college students, Fruitland Fire Department, Christian Shelter, Wicomico County third grade dictionaries, RYLA, Easter Seals Camp Fairlee, MAC, Inc., Meals on Wheels, Parsons Home, Polio Eradication (Global), Fruitland Community Center,
HALO, Wicomico County Library, The Salvation Army, Mission of Mercy, the construction of wheel chair ramps and much more.
The Rotary Club of Salisbury meets every Thursday at 6:00 p.m. in the Rotary Scout and Community Center at 1715 Riverside Drive in Salisbury. To learn more about the Rotary Club of Salisbury or to obtain membership information, please contact Membership Chairman Ginnie Malone at 410-251-6188 or GMalone@cbmove.com or visit the club's website at www.rotarysalisbury.org.