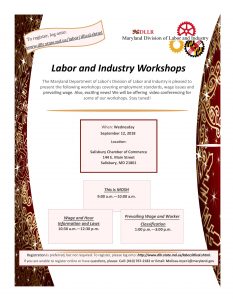 You're Invited!
The Maryland Department of Labor's Division of Labor and Industry will be offering free workshops to ensure employers and employees stay informed on laws and regulations covering MOSH, wage and hour information law, and prevailing wage. The event will be held September 12, from 9 a.m. to 3 p.m.
Maryland Occupational Safety and Health (MOSH) overview (9-10 a.m.)
Wage and Hour Information Law (10:30 a.m.-12:30 p.m.)
Prevailing wage (1-3 p.m.)
Where:
Salisbury Area Chamber of Commerce
144 E. Main Street • Salisbury, Maryland 21801
Registration is strongly encouraged as our workshops do fill up quickly. You can register by emailing lbarnas@salisburyarea.com, or at salisburyarea.com. If you have questions, please contact: Melissa Myer at melissa.myer1@maryland.gov.