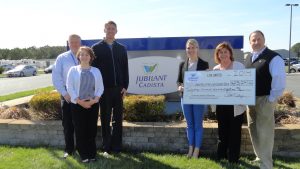 United Way of the Lower Eastern Shore recently recognized Jubilant Cadista Pharmaceuticals for their generous support during their annual United Way campaign. Employee and corporate contributions totaled $23,241 and ranked them within the "Top 25" companies supporting United Way. In addition to annual campaigns, employees participate in "Days of Caring" events such as the wheelchair ramp build where 30 Jubilant Cadista employees constructed a wheelchair ramp in one day for a Salisbury elderly woman in need.
Mark Dudick, Senior Director of National Accounts of Jubilant Cadista Pharmaceuticals shared, "Jubilant Cadista is proud to partner with the United Way and give back to our community. We look forward to improving our contribution as both organizations strive for success."
 Now in its 70th year, United Way of the Lower Eastern Shore continues to be the largest non-governmental source of funding for 56 critical programs in Wicomico, Worcester, Somerset and Dorchester Counties. United Way of the Lower Eastern Shore helps Eastern Shore residents achieve educational success, income stability and good health. In 2013, United Way impacted local lives by providing over $1 million to community programs and helping over 70,000 individuals. To learn more about United Way of the Lower Eastern Shore visit www.unitedway4us.org or call 410-742-5143.
About Jubilant Cadista Pharmaceuticals:
 Jubilant Cadista, Inc. has become one of the fastest growing generic pharmaceutical companies in the U.S. through new product innovation and dedication to customers with production from facilities located in Salisbury, Maryland and Roorkee, India. Jubilant Cadista has a current portfolio of over 20 products and an additional 50 molecules in other various stages of development. In order to facilitate future growth, a new state-of-the-art manufacturing, packaging and warehouse facility will be built on the current Salisbury, Maryland campus.
Photo Caption – Jubilant Cadista Pharmaceuticals Provides Support for United Way
Representatives from Jubilant Cadista Pharmaceuticals present United Way with their generous campaign contributions totaling $23,241 ranking them within the "Top 25" companies supporting United Way. Pictured (L-R) Director of Human Resources Scott Butchley, United Way Donor Relations Coordinator Natalie Costello, Sr. Director of National Accounts Mark Dudick, United Way Assistant Director Amy Luppens, United Way Executive Director Kathleen Mommé and Jubilant Cadista Pharmaceuticals President and CEO Scott Delaney.