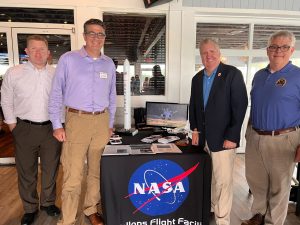 The Salisbury Area Chamber of Commerce July Business After Hours was hosted on July 14, 2022, by two special members: Brew River Restaurant and NASA Wallops Flight Facility.
Guests were welcomed by our co-hosts Justin Schaub, Brew River's Managing Partner, and Dave Pierce, NASA Wallops Flight Facility Director.
Brew River Brew River opened in the spring of 2000 by Frank Hanna Sr. The family-owned company currently
operate two restaurants, which include Brew River and their Fenwick Island location, Harpoon Hanna's
Restaurant & Bar. Since its opening Brew River has established itself as a unique, multifaceted business
specializing in quality food service and dining, renowned banquet capabilities, and an unequivocal nightlife with
the best live entertainment. Private function capacity is approximately 300, and they feature an outdoor Dock
Bar, outdoor veranda, and firepit.
Justin Schaub, who was part of the opening team in April 2000 and is now the Managing Partner, addressed the
75+ attendees and talk about the renovations that have occurred during the years, how the restaurant has
expanded, and welcomed guests to come back and enjoy with their families and friends.
NASA's Wallops Flight Facility opened its doors in 1945 and provides agile, low-cost flight and launch range services to meet government and commercial sector needs for accessing flight regimes worldwide from the Earth's surface to the moon and beyond. Wallops' flight assets ranging from research aircraft, unmanned aerial systems and high-altitude balloons, to suborbital and orbital rockets, provide a full range of capabilities while operational launch range and airfield capabilities meet ongoing and emerging needs in the science, aerospace, defense, and commercial industries.
Dave Pierce shared that NASA Wallops Training Facility has completed over 16,000 rocket launches in its facility, and is also collaborating with the world on many other projects. He also shared that NASA Wallops is very involved in supporting the community, sharing its knowledge with students and educators, creating opportunities for our youth, and diversifying the workforce to secure the success of our next generation. Their Education Programs include Wallops Directorate Education, NASA Community College Aerospace Scholars, NASA Internships, Educators Resource Center, and the well-known Visitor's Center.
Brew River set up one of its banquet rooms and delighted its guest with great appetizers, beer & wine. Door prizes included gift certificates for Brew River, a collectors NASA pint glass, a NASA Wallops Challenge Coin, and a pin of Neil Armstrong's footprint on the moon that was made with alloy from the Apollo 11 lunar command module. The 50/50 raffle, which benefits the SACC Foundation's scholarship fund, was won by Jessica Barry from Thryv.
For more information on Brew River contact: Justin Schaub at 410-677-6757, www.brewriver.com, or visiting at 502 W Main St, Salisbury, MD
For more information on NASA Wallops visit www.nasa.gov/centers/wallops. Visitors Center is located at Building J20, Route 175 Chincoteague Rd, Wallops Island, VA.