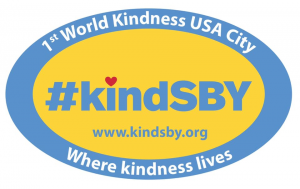 #kindSBY, whose purpose is to share and spread kindness in our community, has launched Adopt-a-School Morale Boosting Program.  The Kindness Commissioners want to help our kindness climate soar for our schools, our businesses, and our community. Congratulations to the six sponsors for our first 8 "Adopted" schools.
The program offers ready-to-go projects for adopters to fulfill and deliver to the adopted school staffs.  A school point person will assist at time of delivery.  The projects offer excellent team building for company employees and morale boosting upon delivery for everyone involved.
Follow this link provided by United Way of the Eastern Shore, Shore Connected Volunteer Center, for all the fun details. http://bit.ly/kindsbyschool.  For additional questions you may email #kindsby at kindsby@gmail.com .