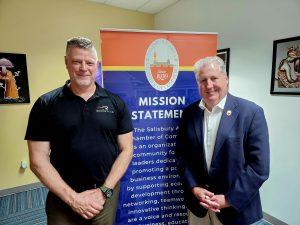 Today's SACC General Membership Luncheon, held and Inspire One Group,  featured Aaron Kuipers, Director of Test & Launch Operations for Rocket Lab, an end-to-end space company delivering reliable launch services, spacecraft, satellite components, and on-orbit management.
Established in 2006 in New Zealand and now headquartered in Long Beach, CA, Rocket Lab maintains offices in Toronto, Canada; Baltimore, Maryland; Albuquerque, New Mexico; and Wallops Island, Virginia.
Rocket Lab's capabilities span the space economy, including satellite design and manufacturing, space software and components, and reliable launch services. Rocket Lab started with small launch and pioneered an industry-defining launch vehicle and the second most frequently launched U.S. rocket, Electron.
Three Electron rockets have been launched from Wallops Island Flight Facility since 2018, carrying small sub-orbital commercial and government payloads.
"Rocket Lab possesses unrivaled launch infrastructure at our New Zealand launch facilities, and that will soon be the case at Wallops Island, Virginia," shared Kuipers.
"A new class of rocket is coming. The Neutron rocket will be considerably larger than the current and smaller Electron rocket, measuring 140 feet in height and 21 feet in diameter. It will have the capacity to carry up to 15 tons of payload into space and possess "return to launch" capabilities allowing multiple reuses of the launch vehicles."
Rocket Lab has plans to add as many as two-hundred fifty new positions at the Wallops Island facility as the Neutron Rocket program ramps up in the coming months and years.
For more information on Rocket Lab and the new Neutron rocket, visit Rocket Lab online at https://www.rocketlabusa.com/.