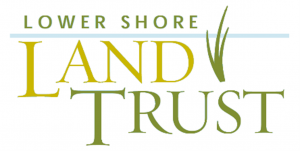 On April 21st at 4pm Lower Shore Land Trust will be hosting a virtual happy hour program called Invasives in your backyard, what to do about it with Victoria Spice Invasive Species Coordinator. This program will cover invasive species identification basics, the top ten species to be concerned about, and what the Lower Eastern Shore Partnership for Regional Invasive Species Management (LES-PRISM) is doing.
The Lower Eastern Shore PRISM (Partnership for Regional Invasive Species Management) is a cooperative of State, County, Federal and NGO partners and stakeholders dedicated to reducing the negative impact of nonnative invasive species on the natural and agricultural environment in the lower 4 counties of Maryland's Eastern Shore. The LES-PRISM connects partners throughout the region to share information, procure funding, and create a network for the identification, mapping and management of invasive species.
The LES PRISM is financially supported through Chesapeake Bay Trust and Wicomico County at this time, and looks to secure ongoing support for the program. The PRISM coordinator is staffed under the Lower Shore Land Trust.
 Lower Shore Land Trust is a nationally accredited 501(c)(3) nonprofit, serving Wicomico Worcester and Somerset Counties. Lower Shore Land Trust is dedicated to preserving rural lands, to promoting vibrant towns, and to building a healthier and more connected Eastern Shore. We work with individual landowners who wish to protect the natural heritage of their properties, so that the character of the land and the quality of life it nourishes remains intact for the benefit and enjoyment of present and future generations.
Our vision is of a future where the Eastern Shore's distinct, vibrant towns are the centerpieces of engaged rural communities and surrounded by thriving natural and working lands and healthy waterways.
RSVP to this event by contacting Taylor Carty at tcarty@lowershorelandtrust.org or by calling 443-234-5587.