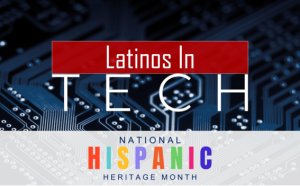 The Governor's Office of Small, Minority & Women Business Affairs in collaboration with TEDCO Leading Innovation to Market invites you to join us in this webinar celebrating Latinos in Tech!
Did you know: Latino-owned employer tech firms now represent 19% of the industry, outpacing non-Latino-owned employer firms, which are only 14% (The 2021 State of Latino Entrepreneurship Report SOLE, by LBAN and the Stanford Latino Entrepreneurship Initiative). Latino/a-owned tech firms represented 54% of start-ups that raised over $1 million dollars in venture funding in 2021 (2022 report by Harlem Capital & Crunchbase).
During this webinar, panelists will get the opportunity to explain their journey, achievements, and what they found to be the best practices that helped them lead by example and forge a path of success. Learn from some of Maryland's emerging Hispanic-owned tech firms as they share information on how they managed to be a part of these increasing percentages.
So, what are you waiting for? Register now and join us during National Hispanic Heritage Month as we celebrate Latinos in Tech
Meet Our Panelists:
Claudia Naím-Burt, is the co-founder and COO of Keep Company. An employer-offered benefit, Keep Company helps organizations support and retain parents and caregivers. Over the last two years, Keep Company has supported hundreds of members at leading professional service organizations around the world. In 2023, Keep Company was selected by the Techstars Accelerator and Melinda French Gates' Pivotal Ventures as one of the top ten startups innovating in the Care Economy. Keep Company has received over $1M in funding from TEDCO, Inicio Ventures, Purple Sage Ventures, Pixel Perfect Ventures and others.
Hector Ocasio, CEO of Pet Connect Business and multi-talented executive consistently rewarded for success in business strategy. Experience in market assessments, program development, and product initiatives that positively impact customer acquisition, customer retention, and achieving financial targets. A firm believer that opinions are irrelevant. Listening to your market is the key to success.
Martin Cadirola, brings extensive experience in business development, engineering, and technology entrepreneurship. As the President and VP of Business Development at Ecotronics Ventures LLC, he has played a pivotal role in driving the organization's growth and innovation. With a focus on telecommunication software and environmental sensing using small unmanned aerial systems, Martin has consistently identified and pursued business opportunities that have added value to Ecotronics' core businesses. With over two decades of contractor and commercial experience at NASA Goddard Space Flight Center, Martin has provided essential hardware and software engineering support in laboratory environments and field experiments. Martin is originally from Argentina and has lived in Maryland for over 30 years.
Who should attend?
Latino-owned small business owners, interested in learning more about entering and succeeding in the emerging tech industry.
When:
Friday, October 13, 2023
10:00 a.m. – 12:00 p.m.
What you need to know
While this event is free, advanced registration is required.
This session will be recorded; by registering, you are consenting to be recorded.
Upon receiving a registration confirmation, you will be given a unique link to join the event.
You will receive all of information needed to connect with our guest (s) following the session.
Special Accommodation requests should be made 14 days in advance to eduardo.hayden@maryland.gov
ZOOM SECURITY NOTICE
Attendees of this meeting should be aware that there are known and potential privacy and confidentiality issues with the Zoom System (Cloud Service, Web application, and/or Application). While every effort has been made to ensure the security of this meeting, factors out of the State's control introduce risk. Participants should evaluate the risk associated with the application and platform and determine if the risks preclude the use of the service. The State provides no warranty regarding the security of the application, confidentiality of the information discussed, or the privacy of information collected by the application and/or service. Security events impacting the confidentiality, integrity, or availability of a meeting (e.g., ZoomBombing) must be reported to the State Security Operations Center (soc.info@maryland.gov).