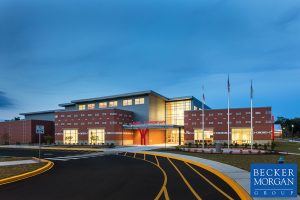 Engineering News-Record (ENR) named Laurel Elementary School a 2019 ENR MidAtlantic Best Project. The 1,200-student elementary school was recognized among projects located throughout Delaware, Maryland, Pennsylvania, Virginia, West Virginia, and the District of Columbia as a Best Project Award of Merit winner in the K-12 Education category.
Well into their second year of occupancy, Laurel School District Director of Facilities, Rick Evans, Ed.D., is thrilled with the facility. "When you walk in Laurel Elementary School, you immediately realize that the design of the building is only outdone by how functional it is for our employees.  Becker Morgan left no stone unturned in making sure that our students would receive their elementary education in a building that was beautiful and easy to navigate."
Designed to facilitate wayfinding and create a sense of place, smaller learning communities allow young students to thrive in the large facility and set Laurel Elementary School apart. The school was designed to accommodate 21st-Century learning approaches and features flexible classrooms, student breakout areas, and collaboration space. The design team strived to inspire students to look at the world around them and ask questions. Encouraging students to rethink typical functions, the main stair not only serves as a crossroads to the second floor but also a stage for student performances and presentations.
Laurel Elementary School was designed with the future of education, student and staff safety, and the growth of the Laurel School District in mind to create a facility that will serve students and the community well into the future. Becker Morgan Group is proud to have partnered with the Laurel School District to bring this award-winning facility to the Laurel community and the State of Delaware.
Becker Morgan Group provides comprehensive Architecture & Engineering services with offices in Delaware, Maryland, and North Carolina. For more information, visit www.beckermorgan.com.