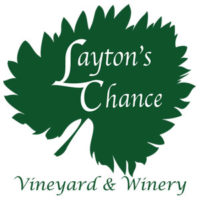 Brand Ambassador and Tasting Room Manager bring experience
to Dorchester County winery
Vienna, MD – June 20, 2019 – Layton's Chance Vineyard & Winery today announced a staff promotion and a new hire at the award-winning Eastern Shore winemaker.
Pam Payne, former tasting room manager, has been promoted to Chief Brand Ambassador / Private Events Coordinator. Payne has been with Layton's Chance since 2011—nearly its entire existence—and began working in the tasting room. Her role grew to include tasting room manager, event coordinator, wine club guru, and distribution. Before joining the Layton's staff Payne owned a restaurant for 21 years. Since retiring, Payne says she "literally begged for a job here."
"Pam embodies Layton's Chance Vineyard & Winery," said Jen Layton, Jen'eral Manager and Co-owner of the winery. "Her energy, love of life, and vast knowledge of wines and the wine business make her well-suited for this new role. We have grown together these last eight years and are excited about the future with Pam as our new brand ambassador."
Payne's primary role is creating stand-out events that make both personal milestones memorable and business events worth talking about. She also assures that Layton's Chance wines are available wherever adult beverages are sold, working with wine shops, liquor stores, distributors, and the buying public, both locally and online.
New to Layton's Chance is Christi Moxey. Serving as the Tasting Room Manager and Public Events Coordinator, Moxey is committed to "helping to create the best environment and team so our guests can enjoy themselves."
With a background in retail and restaurant management, Moxey is ready for the fast-paced tasting room. Her primary role is to ensure that guests have the best experience possible and employees have everything they need to make that happen.
"We are excited to bring Christi on as our tasting room team leader. Her hospitality experience, unflappable positive attitude, and management skills make her ideally suited for Layton's Chance. Our guests and her colleagues will both be well-served with Christi here," Layton said.
About Layton's Chance
Layton's Chance Vineyard & Winery in Vienna, Maryland is family owned and operated on third generation-owned Eastern Shore farmland. Fourteen acres of grapes go into the 18 wines that are crafted on-site and bottled and canned in Maryland. Layton's Chance is a Certified Good Land Steward, in partnership with the USDA. The winery features a tasting room that is open daily, as well as weekend tours, walking trails, special events, and play and picnic areas. Private event hosting is also available. Learn more at www.laytonschance.com.