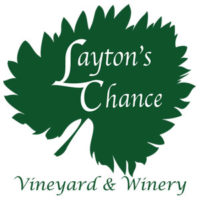 Layton's Chance Vineyard & Winery's Old Fashioned Christmas Market on November 24 Will Offer Gifts & Fun for (Nearly) Everyone
Annual wine sale offers up to 40% off of select wines on November 23-24
VIENNA, MD – November 18, 2019 – With frigid weather in the forecast, it's clear the holidays will soon be upon us – which means that the highly anticipated annual Layton's Chance Vineyard & Winery Holiday Wine Sale and Old Fashioned Christmas Market will soon open.
The Christmas Market will be held on Sunday, November 24 from 1:00 – 5:00pm. The wine sale, offering up to 40% off select Layton's Chance wines, will be held both days during regular business hours, Saturday from 11:00 a.m. to 6:00 p.m. and Sunday, 12:00 to 5:00 p.m.
"Our Old Fashioned Christmas Market and Wine Sale are great opportunities to wrap up gifts for your family and friends while enjoying a festive afternoon in the winery," said Jennifer Layton, "Jeneral" Manager of Layton's Chance. "Shop local artisans, sample some of our favorite wines and enjoy an autumn afternoon in a relaxed setting. It's one of our favorite events of the year."
On Sunday, more than 25 vendors will be on hand selling hand-crafted jewelry, wine accessories, décor items, wood crafts, apparel, fresh evergreens and more. The Tasting Room will offer complementary tastings of the sale wines, and food will be available for purchase. Please note that regular wine tastings will be suspended for this event but that all of the winery's wines will be available for purchase while supplies last. Christmas Carolers will entertain.
Learn more at www.laytonschance.com and follow Layton's Chance on Facebook and Instagram.
About Layton's Chance
Layton's Chance Vineyard & Winery in Vienna, Maryland is family owned and operated on third generation-owned Eastern Shore farmland. Fourteen acres of grapes go into the 18 wines that are crafted on-site and bottled and canned in Maryland. Layton's Chance is a Certified Good Land Steward, in partnership with the USDA. The winery features a tasting room that is open daily, as well as weekend tours, walking trails, special events, and play and picnic areas. Private event hosting is also available. Learn more at www.laytonschance.com.