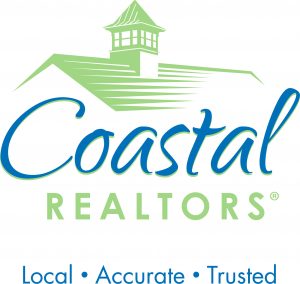 Lack of inventory ahead for winter
Lower Eastern Shore, Md. – Winter is coming and but the real estate market on the Eastern Shore is not cooling down. Low inventory is driving prices up and homes are flying off the market according to the latest numbers from the Coastal Association of REALTORS® (CAR).
In all three counties throughout October, new settlements were up 53.2% percent compared to the same time last year. Individually, new settlements throughout October were up by 23.4% percent in Wicomico, 80% percent in Worcester and down 22.2% in Somerset.
New listings in October were up by 26.7 percent compared to the same time last year in all three counties but because of demand inventory is still going down. Individually, new listings were up by 43.1%t in Worcester, 5% in Wicomico and down by 20% in Somerset. Active listings in all three counties were down by 52%. Individually, there were 446 active listings in Worcester, 223 in Wicomico, and 85 in Somerset.
The average Cumulative Days on Market (CDOM) for October was 55, or 32.9% less than the same time last year. The median sale price for the Lower Shore was $262,750 which is 19.4% higher than this time last year.
"Homes are not staying on the market" said CAR President Joni Martin Williamson. "We are seeing historic lows for days on market as well as inventory. Now is the time to sell!"
"Even in the midst of this horrible pandemic REALTORS® and our Affiliate members have been working hard and safely to help local homeowners and buyers achieve their dreams," said Williamson.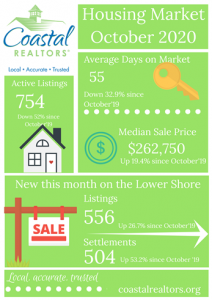 CAR's monthly local housing statistics are pulled from the Bright Multiple Listing Service, which represents the activity of over 1,000 local REALTORS® in Somerset, Wicomico, and Worcester counties, as well as 95,000 real estate professionals across the Mid-Atlantic region. The Bright MLS service area includes Maryland, Delaware, New Jersey, Pennsylvania, Virginia, Washington, D.C., and West Virginia.
Visit www.coastalrealtors.org for more information.