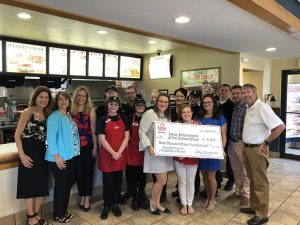 Salisbury, MD – The local Arby's co-op has won a national competition that resulted in a $9,300 award for local nonprofit, Junior Achievement of the Eastern Shore.
Arby's Restaurant Group holds a national fundraiser biannually named "The Make a Difference Campaign."  The winner, across the entire country, that raises the most money during that time period receives a $5,000 grant to be donated locally. The team at Delmarby, Inc.'s Route 13 North location in Salisbury won the entire competition for medium-sized franchisees. The Delmarby, Inc. group owns and operates several Arby's franchises on the Lower Shore, including the 3 in Salisbury.

The money was raised by asking customers if they would like to make a donation to support Junior Achievement of the Eastern Shore.  "The restaurant's General Manager, Chris Vilkas, took on this challenge like a true champion, " said owner Todd Hershey. "Through working with his team they won the whole competition! We are truly making a difference in our community and I couldn't be more proud."
"Delmarby, Inc. supports the education of our children with financial literacy. It is vital to everyone's success as an adult to know how to manage money," Todd continued.
The Junior Achievement staff is grateful for this incredible donation that will be used to continue their Finance Park curriculum across The Shore. Finance Park Virtual is a middle and high school program that aims to show students why budgeting and saving are imperative to their financial success. The program culminates in a virtual simulation where students are randomly assigned life scenarios in which they must buy transportation, pay for somewhere to live, buy groceries, and all the other budgetary items real adults must account for in the real world.
The Junior Achievement staff is looking forward to working with Delmarby, Inc. on their next fundraiser coming in the fall.
About Junior Achievement of the Eastern Shore
Junior Achievement of the Eastern Shore is a non-profit organization dedicated to educating youth, grades K-12 both public and private, on financial literacy, work readiness, and entrepreneurship.  Our hands-on, age-appropriate programs inspire youth to live within their means, prepare for the world of work and understand the free enterprise system.  Our programs are brought to life by local business members from the community.  We are an enhancement to what kids learn in school and a direct link to real-life applications, making school relevant and increasing students' engagement in the classroom.