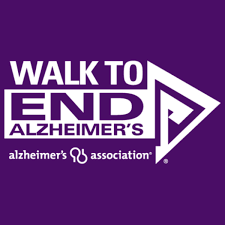 The Alzheimer's Association Walk to End Alzheimer's® is moving forward in 2020, and this year, WALK is everywhere – on every street, trail, and treadmill. To ensure the safety of our participants, volunteers, and staff, we won't physically gather as a large group, instead, on our event day (10/31/20), we will WALK in our own favorite spaces with family, friends, and co-workers, while others are doing the same in their favorite space.
One of the ways we continue to build momentum for Walk is by hosting a Corporate Kick Off event that invites members of the business community to learn more about our mission and Walk to End Alzheimer's.   This year, we are partnering with others in our region to host a really meaningful virtual event that is on 8/13/2020 at 8:30 am.
The health and safety of our constituents, volunteers, and staff remain our driver as we address the COVID-19 outbreak and continue to pursue our mission, today and in the longer term. As always, the Alzheimer's Association is available 24/7 through our Helpline 800.272.3900 or our website, www.alz.org.  Our support groups, education services, and care consultations are also available virtually.
To find a virtual support group or education program, go to:  https://www.communityresourcefinder.org/ or call our Helpline at 800.272.3900.