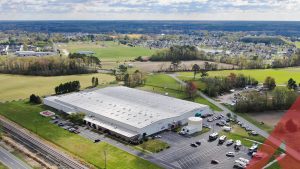 SALISBURY, MD— NAI Coastal and Gillis Gilkerson Principal Brad Gillis is pleased to announce Gillis Gilkerson's purchase of Crown Sports Center, an indoor athletic and entertainment facility located at 28410 Crown Road in Fruitland, Maryland. After sixteen years of ownership, Founder Bill Hearne sold the business and real estate to Gillis Gilkerson's development team, a group well-known for their ability to add value to existing properties across the Delmarva Peninsula.
Crown Sports Center, formerly Crown Cork and Seal manufacturing plant, is one of the largest athletic facilities in the region. With indoor and outdoor turf fields and multipurpose courts, the center hosts countless leagues, tournaments, clinics, and player showcases each year. Additionally, Crown offers the community full-scale childcare and summer camp programs.
"Since opening in 2005, Crown has made a huge impact on our community. It is the only facility of its kind in our region and its presence is invaluable," said Gillis. "Our goal with this acquisition remains consistent with that of our prior investments— we aim to enrich our community. So long as there is demand for a facility like Crown, our team will work to deliver."
Gillis Gilkerson plans to work alongside the Delmarva community to ensure a smooth transition of ownership and continued facility operation. In the coming months, the team will seek input from local stakeholders in effort to  identify areas in which the facility can improve. This feedback will act as a catalyst, helping to modernize and strengthen Crown's service to its community.
"Crown is a multifaceted, dynamic business," added Gillis. "Our team is looking forward to digging in and making signaled adjustments as we navigate facility ownership."
Gillis collaborated with Senior Advisor Henry Hanna of SVN Miller Commercial Real Estate, representative of the Seller. For more information on this transaction, contact Brad Gillis at Brad@NAICoastal.com / Brad@GGIBuilds.com or call 410-543-5115.
ABOUT NAI COASTAL
NAI Coastal is a full-service commercial brokerage headquartered at Riverview Commons, 150 West Market Street in Downtown Salisbury, Maryland. The team of nine advisors have comprehensive market knowledge and an unwavering commitment to the Delmarva region. In addition to brokerage and development, NAI Coastal rounds out their service offerings with consulting, which covers leasing, assemblage, acquisition and sale and investment advising. For more information, please visit www.naicoastal.com or call 410-543-5115.
ABOUT NAI GLOBAL
NAI Global is a leading global commercial real estate brokerage firm. NAI Global offices are leaders in their local markets and work in unison to provide clients with exceptional solutions to their commercial real estate needs. NAI Global has more than 375 offices strategically located throughout North America, Latin America and the Caribbean, Europe, Africa and Asia Pacific, with 6,000 local market professionals, managing in excess of $1.15 billion square feet of property and facilities. Annually, NAI Global completes in excess of $20 billion in commercial real estate transactions throughout the world.
NAI Global provides a complete range of corporate and institutional real estate services, including brokerage and leasing, property and facilities management, real estate investment and capital market services, due diligence, global supply chain and logistics consulting and related advisory services. To learn more, visit www.naiglobal.com or www.naiglobalnewslink.com.