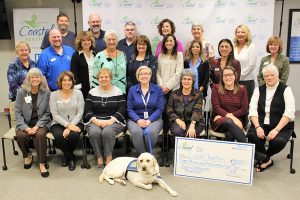 Lower Eastern Shore, Md. – The Coastal Association of REALTORS® (Coastal) is pleased to announce that it has awarded $9,200 in grants to local charities through the Coastal REALTORS® Foundation.
The following organizations received grants in the Coastal REALTORS® Foundation's latest round of funding:
Art League of Ocean City
Coastal Hospice
The Cricket Center
Crisfield Arts & Entertainment District
Crisfield Volunteer Fire Department
The Grace Center
Junior Achievement of the Eastern Shore
Wicomico Child Advocacy Center
Wicomico Environmental Trust
Worcester County Veterans Memorial at Ocean Pines
Wyatt's Warriors Foundation
Young Life Salisbury
The Coastal REALTORS® Foundation is a charitable fund held by the Community Foundation of the Eastern Shore. The association raises money for the fund through an annual charity golf tournament as well as other efforts throughout the year. The fund is accessible to members of Coastal through an application process administered by the association and reviewed by a committee of members. Grant recipients must be 501(c)3 organizations and must be located in Somerset, Wicomico, or Worcester counties.
"We are so grateful for all the support we are receiving for the Coastal REALTORS® Foundation," said President Bernie Flax. "We just received a $9,000 award from the Maryland REALTORS® and our annual golf tournament just raised $11,500 for the Foundation. This money will help a lot of people on the Lower Eastern Shore."
Applications are accepted quarterly, and the next deadline is November 15, 2019.
Lower For more information about the Coastal REALTORS® Foundation, visit www.coastalrealtors.org.
More about Coastal Association of REALTORS®
The Coastal Association of REALTORS® is fortunate enough to represent over 1,000 real estate professionals in Somerset, Wicomico, and Worcester Counties. These members are engaged, informed, and active in their communities. They support the American dream of homeownership, as well as the purchase and use of all types of real property. They are local. They are accurate. They are trusted. They are REALTORS® and affiliate members.
For more information on Coastal REALTORS®, visit www.coastalrealtors.org. The term REALTOR® is a registered collective membership mark unique to real estate professionals who are members of the NATIONAL ASSOCIATION OF REALTORS® and subscribe to its strict Code of Ethics.