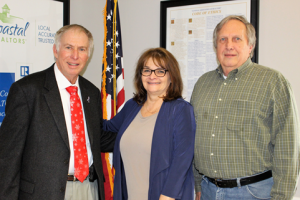 Berlin, Md. – Four members of the Coastal Association of REALTORS® (Coastal) recently achieved the coveted National REALTOR® Emeritus status.
Edie Brennan of Berkshire Hathaway HomeServices PenFed Realty in Ocean Pines, Bill Martin of ERA Martin & Associates in Salisbury, Bob Martin of Beach Real Estate in Berlin, and Linda Moran of Berkshire Hathaway HomeServices PenFed Realty in West Ocean City were approved as National REALTOR® Emeritus during the 2018 National Association of REALTORS® (NAR) Annual Convention
A REALTOR® is eligible for Emeritus status after holding membership in NAR and Coastal for a cumulative period of 40 years. Emeritus members must also complete at least one year of volunteer service for an NAR committee. However, through 2019, the one-year service requirement may also be met through service at a local or state association.
REALTOR® Emeritus members are no longer required to pay dues to NAR or Coastal, and are exempt from NAR's Code of Ethics Training requirement.
Other Emeritus REALTOR® members of Coastal include Randall Bendler of Bendler Realty Corp in Ocean City, Lester Chandler of Coldwell Banker Residential on 64th Street in Ocean City, James "Bud" Church of Coldwell Banker/Bud Church Realty in Ocean City, Paul Faulstich of Century 21 New Horizon in Ocean City, Frederick Nicoll of Frederick Nicoll and Associates in Ocean City, Dean Richardson of Richardson Enterprises in Ocean City, Chuck Shorley of Shore-Lea Realty in Ocean City, and Michael Weisner of Weisner Real Estate in Salisbury.
"It is quite the accomplishment to reach that 40-year mark in your real estate career," said Coastal President Bernie Flax. "We congratulate our new National REALTOR® Emeritus members on this impressive achievement."
Lower For more information about CAR, visit www.coastalrealtors.org.
More about Coastal Association of REALTORS®
The Coastal Association of REALTORS® is fortunate enough to represent over 1,000 real estate professionals in Somerset, Wicomico, and Worcester Counties. These members are engaged, informed, and active in their communities. They support the American dream of homeownership, as well as the purchase and use of all types of real property. They are local. They are accurate. They are trusted. They are REALTORS® and affiliate members.
For more information on Coastal REALTORS®, visit www.coastalrealtors.org. The term REALTOR® is a registered collective membership mark unique to real estate professionals who are members of the NATIONAL ASSOCIATION OF REALTORS® and subscribe to its strict Code of Ethics.