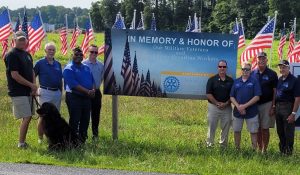 Though the hundreds of American flags displayed between Memorial Day and Independence Day along U.S. Route 50 near the Arthur W. Perdue Stadium east of Salisbury have come down, five organizations will benefit from them for years to come.
Thanks to individual and organization donors, the flags were put on display by the three Salisbury-area Rotary clubs (The Rotary Club of Salisbury, the Rotary Club of Wicomico County, and the Salisbury Sunrise Rotary Club) to raise money for groups serving military veterans.  The purpose of this project was to thank and honor those who have helped and protected our community, sometimes at great sacrifice.  Each organization has received $1,000 during this, the 7th year of the local Flags for Heroes program.
Receiving Rotary-raised money to help with their veterans assistance programs are Operation We Care, U.S. Kennels, Inc., Heroes Haven, Inc., and DAV Eastern Shore Chapter 34.
Operation We Care provides care packages to members of the armed forces who are serving overseas.
S. Kennels, Inc. is an organization that assists veterans battling Posttraumatic Stress Disorder, brain damage, and other combat related disabilities by adopting rescue dogs and training them to become service animals.
Heroes Haven, Inc. transports injured veterans, police officers, emergency medical service personnel, and fire fighters to the Eastern Shore of Maryland for a hunting experience and Eastern Shore hospitality.
The DAV Eastern Shore Chapter 34 mission is Building Better Lives for America's Disabled Veterans and Their Families.  A key activity for this group is transporting veterans to their medical appointments – including to the Perry Point VA medical center in Cecil County,
In addition to these veterans' assistance groups, $1,000 were donated to the memorial fund to aid the family of murdered Wicomico County sheriff's deputy Glenn Hilliard.