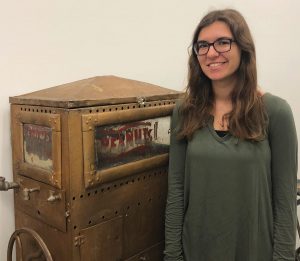 SALISBURY, MD—Salisbury University junior Jaclyn Laman plans to teach the future of the Eastern Shore someday. But first, she's learning from its past.
The elementary education major-turned-history-buff is the first curatorial assistant at the University's Edward H. Nabb Research Center for Delmarva History and Culture. Her most recent project: the SU exhibit "If Objects Could Talk: The History Behind Eastern Shore Artifacts," featuring 30 local historical items and their stories.
Laman, an Honors College student and Pocomoke City, MD, native, learned of the position through frequent trips to the center for her honors history course. The exhibit doubles as her Honors College Creative Project due to its extensive independent research and originality.
"I came across this opportunity unexpectedly," she said. "I'm not a history major. This wasn't originally for a class project, but I've been able to turn a hobby into so many beneficial things".
Her appreciation for education was passed down from her mother, who encouraged her habits of watching Jeopardy and the History Channel. Laman's interest in artifacts and the past was valuable during her months researching every piece in the exhibit and crafting artifact bios.
Her favorite item? The first electric lamp in Salisbury. In 1906, its owner, Fire Chief Fred Grier, took the liberty of running electric lines to his home when the fire station received electricity so he could boast he was the first on his block to have one, she said.
Other local pieces on display include a 19th century Wicomico County ballot box, the Cinno's Confectionary peanut roaster (a Salisbury Main Street staple from 1920-1940), a 1900 Issmayer train set owned by the family of former Salisbury Mayor Benjamin Franklin Kennerly II and a 1948 wedding dress from the local Tilghman lineage.
"I think the most fascinating pieces are those with an interesting story," she said. "We learn even more about the people who owned them."
She hopes to teach locally after graduation, maybe eventually obtaining a master's degree in history and becoming a museum educator. On campus, she also is a member of the Student United Way and the Phi Eta Sigma national freshman honor society.
"If Objects Could Talk" is on display at the Nabb Center's G. Ray Thompson Gallery in the Patricia R. Guerrieri Academic Commons through Friday, July 26.
For more information call 410-543-6312 or visit the SU website at www.salisbury.edu.